Eileen Kloss
School of Design
Assistant Professor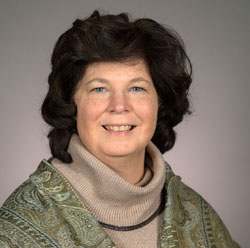 4th Floor, The Nancy Cantor Warehouse
350 West Fayette Street
Syracuse, NY 13202
Eileen Kloss joined the School of Design in 1995. Courses taught include Intro to Repeats and Techniques, Creative Media and Design Techniques, Analysis of Color for Production, Home Furnishings, Intro to Computer Aided Pattern Design, Watercolor, Natural forms in Ornament, Applied Design Concepts, and Professional Practice.
Kloss's professional career began as a designer and colorist for Scalamandré Silks in New York City; she later worked as an assistant to Anne Marie de Samarjay, owner of Samarjay Associates, a surface pattern design agency in Manhattan. This position has led to 20-plus years of freelance design experience for multiple product categories within industry. Her clients and products include Waverly, a division of F. Schumacher & Co., Manhattan, multiple wall covering ensembles; Brewster Wall Covering Co. Randolph, Massachusetts, multiple ensembles within the same wall covering book; Kenneth James line, recognized in Better Homes and Gardens Best Design Picks, Martha Stewart Living, Omni media, Manhattan, bedding and dinnerware collections; Lynn Hollyn Associates, Palo Alto, California, designs for printed and woven fabrics, rugs, dinnerware, and stemware; the Smithsonian Institute, Washington, D.C., wall covering and fabric ensembles; Warner Wall Covering, Franklin Park, Illinois, large-scale architectural border book; Western Textile Co., Manhattan, multiple upholstery fabric ensembles recognized for top three rankings at Showtime Furniture Market, Highpoint, North Carolina; Brunschwig & Fils, Manhattan, upholstery fabric.
Kloss's creative work is informed by research into nature and the patterns within as well as the history of ornamentation relative to its evolution through the fusion of cultural influences, societal structure, trends, and political beliefs. While her expertise is in hand layout and rendering, her work encompasses a wide range of possibilities available through computer manipulation of hand-rendered imagery utilizing multiple media applications.
Education
B.F.A., Syracuse University