Dan Sato
Setnor School of Music
Instructor, Applied Music & Performance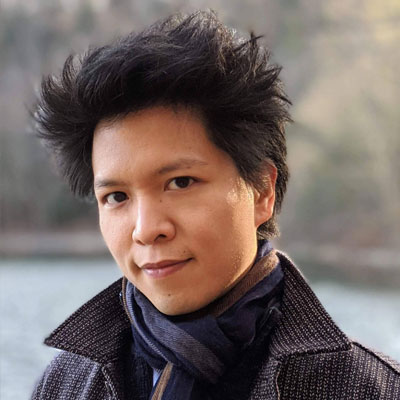 301 Crouse College
Syracuse, NY 13244-1010
Fueled by a mad, yet pure, love for the art of piano-playing, Dr. Dan Sato enjoys a colorful career as a concert artist, scholar, educator, and chamber musician in high demand.
Described by the legendary American virtuoso, André Watts as a musician of "exuberant spontaneity, deep conviction, and serious compositional understanding," Dan indulges in a rich career performing solo, chamber music, art song, and operatic repertoire. As a pianist, educator, and researcher, he embodies the motto written on his favorite T-shirt, "88 keys, 10 fingers — no problem."
He has been heard internationally through BBC, WQXR, CBC, KHPR, and major streaming media platforms, and has performed at music festivals across the US, including Brevard Music Center, Chautauqua Music Festival, Rebecca Penneys Piano Festival, Castleman Quartet Program, and Taconic Music's Summer Festival. He frequently collaborates with artists of his generation including Joohyun Lee, Yeil Park, Rachel Doehring, and Hannah Tarley, and has recorded critically acclaimed albums with Diane Hunger (Deviations) and Leah Plave (Impressions: The Rediscovery of Henriëtte Bosmans).
Known among his colleagues as a human archive of pianistic knowledge and culture, he is a frequent resource for technical solutions, programming, historical recordings, and obscure scores. Affectionately called "Dr. Dan," he has coached students and taught keyboard literature at Syracuse University and has been a faculty artist at the Perlman Music Program, ArtsAhimsa, and Notes By The Bay Music Festival. Dan currently specializes in solo piano transcriptions, both as a performer and transcriber. His adaptation of Ravel's Introduction et Allegro was published by Muse Press in 2020, and he has since then served as their editor and scholarly consultant for publications of works by Edouard Risler (Strauss' Till Eulenspiegel's lustige Streiche), Leopold Godowsky (Rediscovered incomplete Studies on Chopin's Etudes Nos. 30A and 50), Keigo Mukawa (Ravel's Ma Mère l'Oye), and Yui Morishita (Toshiya Shioiri's Aoi Tori). He also gave the world premiere performance of Vincenzo Maltempo's tour de force transcription of the Second Suite from Ravel's Daphnis et Chloé, which was previously considered unplayable due to its extreme virtuosic demands.
Dan completed his doctoral studies at the University of Miami Frost School of Music with the internationally renowned pianist, Kevin Kenner, and continues to be under the mentorship of Dr. Frank Heneghan. He has also studied with Chieko Munakata, Peter Coraggio, Donna Loewy, Judith Burganger, and André Watts.
Education
D.M.A. University of Miami - Frost School of Music
M.M./M.A. Indiana University - Jacobs School of Music/Florida Atlantic University
B.M. University of Cincinnati: College-Conservatory of Music
Expertise
Applied studies, keyboard literature, collaborative arts