Corey A. Wallace
Setnor School of Music
Instructor, Applied Music and Performance (Jazz Trombone)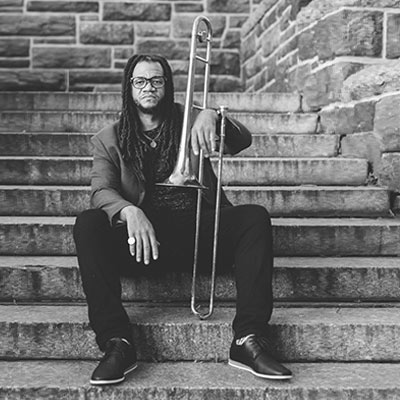 301 Crouse College
Syracuse, NY 13244-1010
Baltimore, MD native/trombonist Corey Wallace has gained the respect and admiration of many in his relentless pursuit of all things good music and amazing life experiences.
He was selected as the 2012 Best Trombonist by the Washington [D.C.] City Paper for his "technical fluidity and for the heavy dose [of] introspection that sits right on the surface of his playing"; more recently, he was again selected as Best Trombonist in the 2019 NYC Reader Jazz Poll (sponsored by Hot House Magazine/Jazzmobile) in a deep field of legends and luminaries - Wycliffe Gordon, Steve Davis, John Fedchock, and Ryan Keberle - not just for his playing, but for being a staple and anchor on the NYC scene, across generations.
With a deep connection to the bandstand, audience, the music, culture, and the classroom he has been afforded many opportunities to share and create moments with other amazing musicians - influences, elders, and icons, who have laid the foundation for what the music is, as well as his contemporaries who continue and expand the tradition. Wallace made a place for himself and continues to be a vital part of the NYC scene as a leader, collaborator, and member of the community. Even during such an unprecedented time in the world where everything has changed, continuing to create with artists and creatives by recording, podcasting, and releasing fulfilling content has allowed for him to reach vast audiences!
As a teaching artist, he has taught at the Baltimore School for the Arts, the Harlem School for the Arts, in the New York Public School System, and was most recently a faculty member in a variety of programs at Jazz at Lincoln Center (2017-2020). He also has a growing number of private students dedicated to studying the trombone and learning from his wide array of life and music experiences.
Wallace is currently based out of New York City, NY. He leads the Corey Wallace DUBtet, a group dedicated to creativity and integrity in Black American Music and beyond.