Anthony Salatino
Department of Drama
Associate Professor, Musical Theater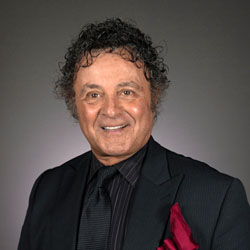 Syracuse Stage/Department of Drama Theater Complex
820 East Genesee Street
Syracuse, NY 13210-1508
A graduate of The Juilliard School, Anthony Salatino is a well-known choreographer, director, and teacher.
He was the artistic director of the Fort Worth Ballet (Texas) and the associate director of the Hartford Ballet (Connecticut). For Syracuse Stage he choreographed and directed West Side Story, Peter Pan, and The Sound of Music. He also choreographed Oliver, The Wizard of Oz, Big River, Christmas Carol, American Song, Amadeus, Romeo and Juliet, and Godspell. He created movement for M Butterfly and designed the fights for A Streetcar Named Desire, Bug, and Romeo and Juliet.
Salatino choreographed Jam and Spice, a world premiere at the Westport Country Playhouse in Westport, Connecticut. He co-directed and choreographed Kenneth Grahame's The Wind In The Willows at the New Victory Theatre on Broadway in New York City.
For the Syracuse Opera, Salatino has been fight choreographer for Faust, Othello, Don Giovanni, and Romeo and Juliet. He has directed and choreographed The Pirates of Penzance and HMS Pinafore for Syracuse Opera. Other opera credits include Fort Worth Opera, Dallas Opera, Pittsburgh Opera, and Connecticut Opera. He has worked with such opera stars as Placido Domingo, Grace Bumbry, and Dame Joan Sutherland.
Salatino has conceived, directed, and choreographed three original productions: Bravo, Piaf! (for Vera Farmiga '95), Der Tisch, and The Clowns for the drama department. He has choreographed and directed numerous musicals for the drama department.
Salatino has performed with many dance companies in the United States and Europe, including New York City Opera Ballet, Ballet Brio, Joffrey II, Ballet de Puerto Rico, Saeko Ichinohe Dance Company, Louis Falco Dance Company and the Koln (Cologne) Dance Forum in Germany, to name a few. He also performed at the Kennedy Center and at the White House with the City Center Company.
Most recently, Salatino choreographed the New York City Opera's production of Margaret Garner, based on Toni Morrison's book Beloved and directed and choreographed Little Women (The Music of Our Home), for Syracuse Stage's holiday show.
Salatino has taught all levels of ballet, tap, modern, jazz, theater rep, contemporary partnering, choreography, clown, mask, and Pilates. He serves and has served on many University and college committees. He has taught master classes at the Juilliard School, the Pittsburgh Ballet, Arizona Ballet, Point Park College, Kirkland College, and the Hartt School of Music, to name a few.
Salatino is the director of the Summer College musical theater/acting program, which he designed. He is a member of the Society of Stage Directors and Choreographers (SSDC) union, Actors' Equity Association (AEA), and the American Guild of Musical Artists (AGMA) union.
Education
B.F.A., The Juilliard School
Expertise
Ballet, movement, performance styles, and tap