Amy Giller Heyman
Setnor School of Music
Instructor, Applied Music and Performance (Piano)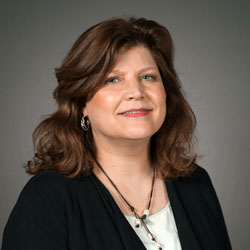 301 Crouse College
Syracuse, NY 13244-1010
Amy Giller Heyman received a master of music degree from the University of Wisconsin as a student of Howard Karp, and a bachelor of fine arts degree from the University of Oklahoma as a student of Todd Welbourne. She has also studied with Hans Graf, Edith Oppens, and Gyorgy Sebok. Her performances include solo recitals, chamber music concerts, and concerto appearances, notably as a featured artist with the Syracuse Symphony Orchestra. Additionally, she has appeared at the Skaneateles Festival, Deer Valley Festival in Utah, Vermont Music and Arts, Early Baroque Music Festival in Lake Tahoe, and the Chenengo! Summer MusicFest. She has also performed under the auspices of the Society for New Music, Civic Morning Musicals, Syracuse University, Le Moyne College, OASIS, and the Syracuse Camerata.
Heyman is the past recipient of the Civic Morning Musicals Award for Outstanding Young Musician. She frequently performs with husband Steven Heyman as a piano duo team; they have appeared as soloists with the Syracuse Symphony Orchestra, South Arkansas Symphony, Skaneateles Festival Orchestra, and the Syracuse University Symphony Orchestra. They have also performed for numerous benefits, including the Jonathon Cancer Foundation, Performing Arts Medicine Association, and the Syracuse Symphony Orchestra Association. They are the past recipients of the Tiffany Award from Civic Morning Musicals, honoring their musical contribution to the community.
Heyman maintains an active private studio. Her pedagogy teachers have included E.L. Lancaster, Marvin Blickenstaff, Gayle Kowalchyk, and Jane Magrath. She is active in many music organizations, including co-chair of competitions for the Central New York Association of Music Teachers and advertising chair for the New York State Music Teachers Association following her past service as vice president of conferences.
Education
M.M., University of Wisconsin-Madison
B.F.A., University of Oklahoma
Expertise
Piano