Alexander Koziara
Department of Drama
Associate Professor, Theater Design and Technology
Program Coordinator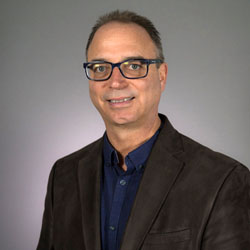 Syracuse Stage/Department of Drama Theater Complex
820 East Genesee Street
Syracuse, NY 13210-1508
Alex Koziara is a designer for theater, opera, dance, and corporate communications. International credits include designs for the European premiere of "Bianca Neve" and a revival of Maurice Sendak's "Where the Wild Things Are," both at the Maggio Musicale in Florence, Italy. He toured North America and Europe extensively with Lotte Goslar's Pantomime Circus and was the lighting designer for German-based Palindrome Dance Co.
Other opera projects include Syracuse Opera's Rigoletto, The Medium, and Pagliacci. Additionally, Gianni Schicchi / Suor Angelica, directed by Jacque Trussel and Dialogue of the Carmelites, Il Ventaglio (American premier), directed by Kay Walker Castaldo.
Koziara's New York credits include associate facilities design consultant/designer for Imero Fiorentino Associates and Design Consultant for BAM's Next Wave Festival, which included projects with Richard Forman's The Birth of the Poet, Meredith Monk and Ping Chong's The Games, Mark Morris' Sabat Mater, and David Salle/Karole Armitage's Molino Room for ABT and Paris Opera. He designed lighting for Brenda Daniels at Merce Cunningham Studios, Grethe Holby at Washington Square Church, Lotte Goslar at 92nd Street Y, The Memoirs of Erna Friedlander at La MAMA Etc., and recently a promotional music video for Mary Fahl's Dark Side of the Moon.
Regional credits include the lighting for Santaland Diaries, Wizard of Oz, and the scenery for Fully Committed at Syracuse Stage, as well as the scenery for Stones in his Pockets at Syracuse Stage and Studio Arena Buffalo. At the Merry Go Round Playhouse Koziara designed the settings for Peter Pan, Singing in the Rain, La Cage aux Folles, Gypsy, and The Sound of Music. He recently designed My Mother's Lesbian Jewish Wiccan Wedding for the Finger Lakes Musical Theatre Festival.
For the Department of Drama, Koziara designed settings for As You Like It, Cabaret, My One and Only, Into the Woods, Sweet Charity, Miss Julie; lighting designs for Lips Together Teeth Apart, Stepping Out, Seussical, Rosencrantz and Guildenstern Are Dead, Henry V;and costumes for Speed the Plow and Top Girls. He also designed numerous productions for the Gifford Family Theater at Le Moyne College and the RedHouse, Syracuse.
Koziara created courses in scenography and lighting design at the SU Abroad center in Florence, Italy. He was awarded a VPA Interdisciplinary Grant to develop his course The Lighting in the Piazza, the Magic of Light of Italy and a new opera in conjunction with the Setnor School of Music. He was awarded a Syracuse University Vision Grant for the development of the fiber optic lighting modeling tool Lightbox. Other SU interdisciplinary projects include exhibition design at Point of Contact Gallery for Swietlan Kraczyna's Labryniths; Stage Designs from the Ballet Russe at the SU Lowe Art Gallery; production consulting for SU Arts Engage's presentations of Diavolo Dance Theatre, Shen Wei Dance Arts, Meryl Tankard, Paul Taylor 2; and scenic and lighting consulting/design for the VPA senior collection fashion show and art installation in 2013.
Koziara is a member of United Scenic Artists Local 829.
Education
M.F.A., B.F.A., Conservatory of Theatre Arts, Purchase College, SUNY
Expertise
CAD, lightbox (fiber optic scale lighting research) lighting design, rendering, scenic design, and scenography