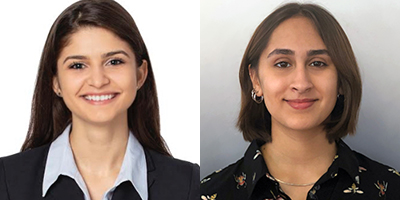 Each year, the College of Visual and Performing Arts (VPA) select two seniors as class marshals to represent the college at Syracuse University's Commencement. These students reflect high achievement in academics and service to the college and represent those qualities that most distinguish the graduating class. The VPA Class of 2021 class marshals are Nurie Metodieva of the Department of Communication and Rhetorical Studies and Alexis Mohammed of the School of Art.
Nurie Metodieva
Metodieva, who is from Queens, New York, earned a bachelor of science dual degree in communication and rhetorical studies in VPA and political science in the Maxwell School of Citizenship and Public Affairs in December 2020. She also holds a minor in business. Throughout her academic experience she has engaged in opportunities to conduct research and pursue her aspiration of becoming an attorney through the multiple internships she held over the breaks and during the academic year, including research with Judge Julie Cecile presiding over the Onondaga County Family Court.
In addition to his academic achievement, research involvement, and practical experience, Metodieva was an active student leader across many student organizations. During her last semester, she served as Alpha Kappa Psi's vice president of external affairs, which is the world's oldest and largest co-ed professional business fraternity.
Alexis Mohammed
Mohammed, who is from Wappingers Falls, New York, will graduate in May 2021 with a bachelor of fine arts degree in illustration with a minor in computer gaming. She is a recipient of the Thomas G. Yohe Prize Fund and has had her work shown in the Society of Illustrator's Annual Student Competition Exhibition.
Mohammed is the producer for the Orange Shorts Animation Studio, leading and collaborating with fellow students to create an annual animated short. She values the connection that art creates between creatives and their audience. She has found a great sense of community among her peers during her time at Syracuse University and strives to make others feel the same.