It's said a picture is worth a thousand words. For military service members who go forward into combat with a rifle and a camera, it's more than just an adage. Syracuse University student veteran Adrian Weekly '20 knows this all too well.
"I had enlisted in the Marine Corps to be an aviation mechanic," says Weekly, a communication and rhetorical studies major in the College of Visual and Performing Arts. "Then some people found out I could draw pretty well, and I was made into a combat photographer instead."
Weekly grew up in Atlanta. His childhood was full of traveling and martial arts, and he was involved with the Navy Junior Reserve Officer Training Corps in high school. It was there that a retired U.S. Marine Corps gunnery sergeant told him he had the attitude to become a Marine. When he enlisted at the age of 17, he was following in the footsteps of his parents, both of whom are U.S. Navy veterans.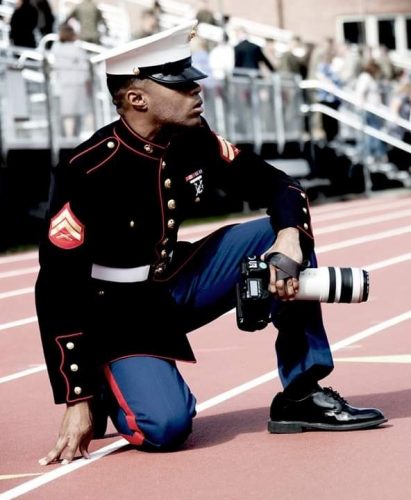 "My father is Caribbean, so every summer I went to St. Thomas, part of the U.S. Virgin Islands," Weekly says. "That sparked the desire to travel and see the world.  Both of my parents were in the Navy, so they probably understood why I wanted to enlist."
Ten days after graduating from high school, he found himself at Marine Corps Recruit Depot Parris Island, South Carolina, to attend boot camp. It was there that he was exposed to the Marine Corps Martial Arts Program (MCMAP.)
"While I was in the service, I was able to continue martial arts like I had when I was younger. I even became a Marine Corps martial arts instructor, and that was probably the most difficult thing I've ever done."  Weekly says. MCMAP, like other martial arts, has a progression system that allows Marines to wear different color belts to show their progress in the system, with instructors visually identified by a tab that they wear on their belt.
Weekly still had the desire to travel and see the world, and while being a combat photographer in the U.S. Marine Corps can offer very unique experiences, he decided to volunteer for the Marine Security Guard program to really immerse himself in other cultures throughout the world.
"I went on to become an M.S.G. guard and was assigned to the embassies in Botswana, Germany and Iraq," Weekly says. His assignment to the Marine Security Guard is a highly coveted position within the Marine Corps—the only branch of service entrusted to guard the U.S. embassies and consulates throughout the world.  The selection process is intense, and the training at Quantico, Virginia, is even tougher.
"It was definitely a rewarding experience. I've been able to travel to at least 27 countries and do things that most people would never dream of," he says. "But ultimately, I knew there were other things I wanted to accomplish in life. I never joined thinking that I'd make it a career."
Weekly came to Syracuse University to build on his past experience in the communications field and ultimately landed in the College of Visual and Performing Arts. He wants to capitalize on his military experience and education to pursue a career in public relations and marketing.
"I like it here. I feel as though I'm treated like any other student," Weekly says. "I'm aware that being the only veteran in many of my classes is not something many students can relate to, but that's okay. Being in the military definitely helped me with my academic pursuits. Without my experience in the Marine Corps, I don't believe I would be the student that I am today. I'm better at time management, networking, and I have a drive to succeed even when I might be feeling overwhelmed."
That perseverance is a trait many of his fellow student veterans share. As a student veteran, Weekly was recently given the opportunity to attend an immersion trip in New York City, where he spoke with a wide variety of potential employers.
"It was a great trip and a great experience," Weekly says. "I really enjoyed being able to get out there and shake hands with people from a wide variety of industries. It really opened up a lot of ideas for how I can apply my background with my degree, and I look forward to that next step."
In celebration of Veterans Week 2019, the University is recognized stories of student veterans and faculty/staff who are veterans or have especially strong connections to the military. This story is just one of the many from the veteran and military-connected community on campus whom the University is dedicated to supporting. From welcoming veterans to campus as far back as World War I and having the longest consecutively running ROTC program in the country, the University is committed to being the "best place for veterans."