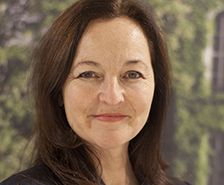 The Syracuse University Department of Drama in the College of Visual and Performing Arts would like to take this opportunity to thank Founding Director Lisa Nicholas for her passionate leadership of the Tepper Semester program in New York City for the past 20 years.
"In her 20 years as director, Lisa has made an extraordinary contribution to the department and to the University, which is now home to one of the premiere theater programs in the country," said Ralph Zito, chair of the department. "Lisa has been an exceptional director, and she will be missed."
Nicholas will be working with her industry colleagues in a variety of new endeavors, with a focus on arts and education creative initiatives in New York City and in the Hudson Valley.
As she leaves her role, the Department of Drama looks forward to seeing Nicholas's future work as she launches a new production company, takes on the role of consultant for Wellstock's creative arts programming and Inspire Scholarships, and begins her studies at Harvard University at the Harvard Graduate School of Education. The department extends its congratulations and best wishes.