This summer's six-week program began in July, with the formidable task of learning the creative and technical intricacies of filmmaking while adjusting to life during the COVID-19 pandemic and following new health and safety guidelines. Four afternoons each week, the fellows masked up and spread out among tables in the NSLC's basement classroom or joined the sessions online. They plugged away on laptops and worked with cameras and film equipment on loan from the Department of Transmedia in the College of Visual and Performing Arts (VPA). They gathered for Zoom meetings with guest speakers and facilitators, including Badr from his home in Houston. Artist-in-Residence Ana Vîjdea G'20, an internationally recognized, award-winning Romanian filmmaker and former Fulbright Fellow who earned an M.F.A. from VPA, guided the fellows closely, encouraging them from start to finish. They learned about storytelling and film techniques, conducting interviews, operating equipment, and using video-editing software. They asked questions and collaborated—sharing ideas and helping each other with their projects. And through it all, they had fun. "We have a good team," Aman Yohannes says.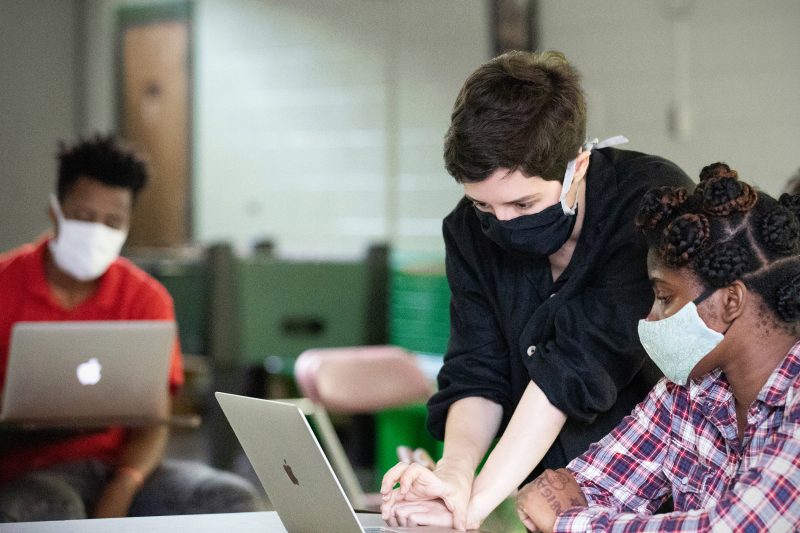 At the heart of the activity was Brice Nordquist, Dean's Professor of Community Engagement, associate professor of writing and rhetoric in the College of Arts and Sciences, and co-creator of the fellowship program. On any given day, he'd navigate between speakers on the screen and in the room, often maneuvering a shotgun mic among the fellows. Meanwhile, he still managed to keep the conversations rolling, asking and fielding questions and interacting with the fellows. "We figured out how to make it work in a very challenging context," says Nordquist, a member of the NSLC's board. "The fellows have been so determined in their purpose, so clear in what they've wanted to do, and have really taken up the work to bring their vision forward. They've been incredibly supportive of each other—thoughtful and engaged in every session with all of our guests and with each other's work."
Nordquist was often joined by facilitators Maggie Sardino '23 and Adiba Alam '23. Sardino documented the summer work, writing profiles and photographing the fellows, and enjoyed building relationships with them. "It's been an amazing experience," says Sardino, who's majoring in writing and rhetoric in the College of Arts and Sciences and citizenship and civic engagement in the Maxwell School of Citizenship and Public Affairs. "The fellows are extremely talented and have such inspiring stories. I think there's so much everybody can learn from them."
Alam, an international relations major in the College of Arts and Sciences and the Maxwell School, admired how they shared such personal stories, often for the first time, and accomplished so much in six weeks. "Being open and trusting enough to share such a personal part of yourself, even something you may not have worked through yourself, takes courage," she says.
Exploring Autobiographical Film
On a Wednesday in late July, Vîjdea introduces the film Dad (2014), by her fellow Romanian filmmaker and partner Cosmin Nicoara. Speaking online, Nicoara talks about both the staged and spontaneous parts of the autobiographical film, which revolves around a camping trip and a night by the fire with his father. He wanted to keep the film simple, relying on improvisation and building the narrative around his life at that time. "It was the first night in my life that I spent in the forest with my father," he says with a laugh. "In a way, I tried to connect with him through this, film it and see how I could do a film by inserting the real effect in a fiction-like setting."
There's conversation about the different roles in filmmaking and how they all work together. There's also talk about editing, terminology and noting ideas that may emerge. When filming, Vîjdea emphasizes letting unplanned things happen and being vigilant, because unexpected footage can often be useful. "Embrace accidents and be as patient as you can," says Vîjdea, who also discusses how to get people comfortable in front of a camera. "It helps tremendously to have your camera with you every single moment of your interaction with anyone."