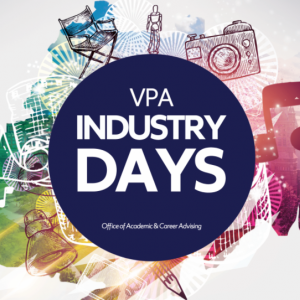 The College of Visual and Performing Arts' (VPA) Office of Academic and Career Advising is launching a new initiative this semester that will bring alumni to campus to assist VPA students with professional development. Beginning on Friday, Feb. 18, the college will host a series of "Industry Days" focused on the various disciplines within the college. The goal of each event is to bring alumni and students together for a full day of networking, resume reviews, mock interviews, and professional development breakout sessions.
The Feb. 18 Industry Day will focus on the performing arts industry. Alumni scheduled to attend include Alex Alpert '16, director of creative at OneOf; Gregory Boilard '14, communications and publicity specialist at Disney Theatrical Group; Matt Britten '07, CEO of Broadway Brands and a VPA Young Alumni Council member; Meghan Flaim '14, manager of sales and sponsorships at Superfly; Julie Kubacki '00, vice president of promotion at 300 Entertainment and a VPA Council member; Lee Meltzer '09, vice president of entertainment at Rogers & Cowen PMK; Anwar Nasir '06, executive director of the Louisiana Philharmonic Orchestra; and Melissa Shakun '05, set designer and art director at "Saturday Night Live" and a VPA Young Alumni Council member.
The college will also host Industry Days on March 4 (communications), March 25 (design), and April 8 (art, film and media arts). Details of each Industry Day will be posted on the VPA calendar when available. Students can register on Handshake or contact the Office of Academic and Career Advising at 315.443.2517 or for more information.