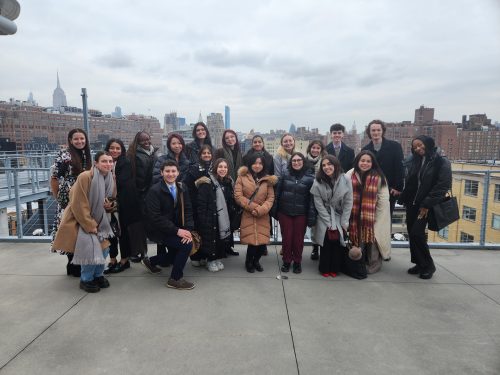 In January the College of Visual and Performing Arts (VPA) held its inaugural VPA New York City Immersion Trip. The four-day experience provided upper-class undergraduate students with the opportunity to explore careers and engage with industry professionals and potential future employers.
Nineteen students from across the college participated in the trip, which was coordinated by VPA's Office of Academic and Career Advising in collaboration with Syracuse University Career Services. The students visited the companies and office settings to gain a better understanding of different corporate cultures, day-to-day life on the job and potential internship opportunities. Many of the professionals who met with the students were Syracuse University and VPA alumni, which made the trip more impactful.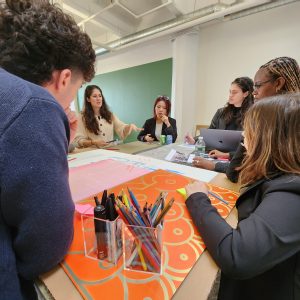 "It was very insightful and a good way to network and truly see how strong and valuable the Syracuse community is even after graduation," says Mia Mendez Baldera '24, a communication and rhetorical studies major.
"I really enjoyed getting to meet alumni of VPA who have been successful at using the skills they learned in college to have solid careers in a demanding industry," notes Jeremy Shinder '24, a film major.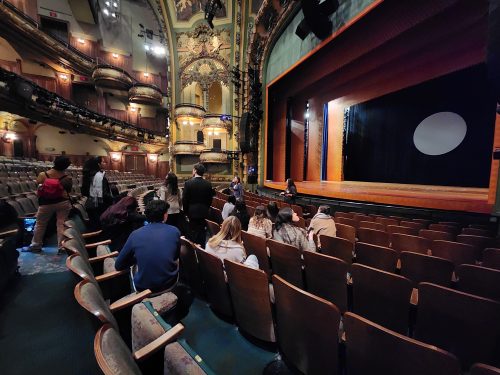 Students visited the following companies (alumni who presented to the students are noted):
Acrylicize (Michelle Lynch G'08, global accounts director; Carly Klaire '15, lead designer)
Disney Theatrical Productions (Gregory Boilard '14, publicity and communications specialist)
HarperCollins (Nancy Taylor '15, director, film/TV development and VPA Young Alumni Council member)
LinkedIn (D.J. Shea '07, lead client solutions manager)
Penguin Random House
P3 Productions (Ben Holtzman '13 and Sammy Lopez '13, co-founders and producers)
SiriusXM (Dave Gorab '93, vice president and general manager, talk programming; Nick Gutierrez '22, music programming coordinator; Andrew Moss '91, senior vice president of business affairs and programming)
The Whitney Museum of American Art (Meghan Ferrucci G'17, publicist)
On Friday, March 24, the Office of Academic and Career Advising will host an on-campus Industry Day for students to meet with industry professionals. For more information about Industry Day, or if you are a VPA alumnus and want to participate, contact Jackie Flores, VPA's assistant director of career development, at .