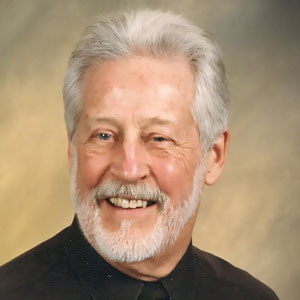 William "Will" O. Headlee, professor emeritus of organ in the College of Visual and Performing Arts' (VPA) Rose, Jules R. and Stanford S. Setnor School of Music and Syracuse University organist emeritus, passed away on Monday, Nov. 9, in Syracuse. He was 90.
Headlee came to Syracuse University to study with noted organist Arthur Poister and earned a master of music degree in 1953, following undergraduate work at the University of North Carolina at Chapel Hill with Jan Philip Schinhan. He retired from the University in May 1992 after 36 years of teaching, academic service and continuous choir directing activity, including six seasons with the Hendricks Chapel Choir.
Headlee was active in the American Guild of Organists (AGO) and the Organ Historical Society, performing at many conventions. He served as organist at Park Central Presbyterian Church in Syracuse from 1992 until his passing.
"Headlee was a lifelong mentor and friend to me and many other organ students," says Jim Potts '74, who serves as organist and choirmaster at St. Paul's Episcopal Church in Syracuse. "His influence on me as an organist and a church musician was unsurmountable."
In 2010, Headlee helped celebrate the 60th anniversary of the University's Holtkamp Organ in Setnor Auditorium, Crouse College, with a performance of pieces that he particularly connected to the organ, including Seth Bingham's Rhythmic Trumpet (No 4 from Baroques, 1944), which was recorded and shared by the Syracuse chapter of the AGO. He also moderated panel sessions and helped develop content for the 2019 Syracuse Legacies Organ Conference, an event celebrating Poister, Walter Holtkamp Sr. and Calvin Hampton.
"I am so grateful I had a chance to get to know Will Headlee over the past seven years," says Anne Laver, assistant professor of organ in the Setnor School and current University organist. "He was a first-rate musician with a keen ear, and you could always count on him to give you his honest opinion of a performance. Will represented the best of humanity. He was kind, generous and devoted to his students."
A celebration of Headlee's life will be held at a later time. Memorials in honor of him can be directed to the Setnor School of Music by contacting Mike Grannis, VPA assistant director of development and alumni relations, at 315-708-2377 or .