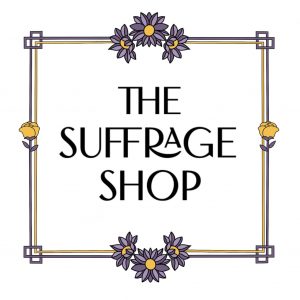 The Sue and Leon Genet Gallery in the College of Visual and Performing Arts' School of Design is presenting "The Suffrage Shop," an exhibition co-curated by museum studies graduate students Madeline Nielsen G'21 and Emma Rathe G'21, through March 28.
As white women began to explore their freedom as consumers, suffragists in the United States were campaigning for the right to vote. The suffrage movement sought to ratify the 19th Amendment of the Constitution, which legally granted women this right, and did so by copying many of the same campaigning techniques used in the United Kingdom. Beginning in 1910, women in London set up storefronts, known as suffrage shops. The shops provided women a space to meet with other suffragists and to help spread educational materials that pushed the messages of the movement.
In an effort to recognize the exclusionary nature of suffrage shops, this gallery advocates for the inclusion of a wider range of narratives. The space invites visitors to have conversations surrounding the women's movement, from its inception to the present day, and how it must change to serve evolving definitions and lived realities as to what it means to be a woman.
The  Genet Gallery is a student-managed space hosting exhibitions from the School of Design's students, faculty, and alumni. Programing seeks to engage Syracuse University and the downtown Syracuse community with exhibitions inspired by and related to the field of design.
The gallery is located on the first floor of the Nancy Cantor Warehouse, 350 W. Fayette St., Syracuse. Gallery hours are Tuesday-Friday noon-5 p.m., or by appointment. For more information, email .