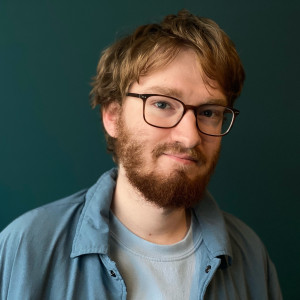 Evan Bode, a second-year graduate film student in the College of Visual and Performing Arts' (VPA) Department of Transmedia, was selected as one of five winning filmmakers of the Gotham Film & Media Institute's third annual Focus Features & JetBlue Student Short Film Showcase, which is designed to discover and empower a diverse group of emerging filmmakers and foster multi-platform distribution of their work.
Bode won for his animated film "Thine Own Self," which he created last spring as part of an online graduate film class taught by Kara Herold, associate professor and program coordinator. The film was selected for the Focus Features & JetBlue Student Short Film Showcase by a special jury of filmmakers, curators and critics, which reviewed projects from more than 20 graduate film schools.
"This was a zero-budget project I made by myself in my room when classes were online last semester," says Bode. "I poured my whole heart into it, and I am so humbled and grateful to know I created something that is resonating with others."
As one of the winning filmmakers, Bode was recognized at the 2021 Gotham Awards Ceremony in New York City on Nov. 29. He will receive a $10,000 grant and have his film shown for 12 months on JetBlue's seatback entertainment systems under the "Gotham Selects" movie category and on Focus Features digital streaming platforms. Throughout 2022, he will also receive ongoing mentorship and workshopping opportunities from the Gotham.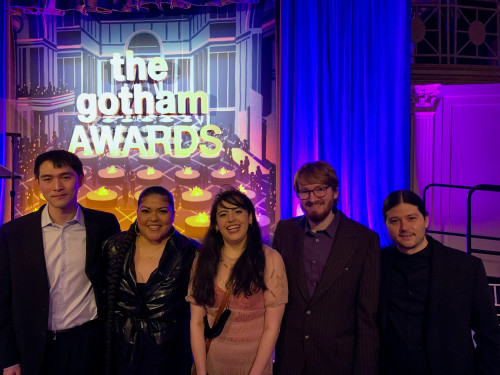 "It is truly amazing that Evan made the best of his circumstances during the pandemic and created an animation in his bedroom in Colorado that landed him on a stage at the Gotham Awards in New York," says Herold. "The film reminds me of the abstract animations from the 1920s and 30s but with a modern social justice message. The film is truly brilliant, and I'm thrilled he gets to share it with a large audience."
In addition to creating the animation for "Thine Own Self," Bode composed its music. His artist's statement describes the film as representing "…a resistance to hegemonic constructions of gender, expressing a desire for collective liberation from restrictive understandings of identity."
"As an artist, I was trying to speak through images and music as a language," adds Bode. "There are no words in the film, and the story is fairly abstract. I'm proud that I was able to take an experimental approach and express myself in a way that others can connect with."
In addition to the Gotham's Focus Features & JetBlue Student Short Film Showcase, "Thine Own Self" has been an official selection at several international festivals this year, including MicroActs 8 Artist Film Screening, OutSouth Queer Film Festival, the 10th QUEER-Streifen Regensburg Film Festival, the Seattle Queer Film Festival, the Syracuse International Film Festival Student Showcase and 15th FOR RAINBOW Festival of Cinema and Culture of Sexual and Gender Diversity. View more of Bode's work on his website.
"We strive to foster a film program in VPA where each student's unique voice can emerge," says Herold. "Evan's film is the perfect example of that, and we are so proud of his success."