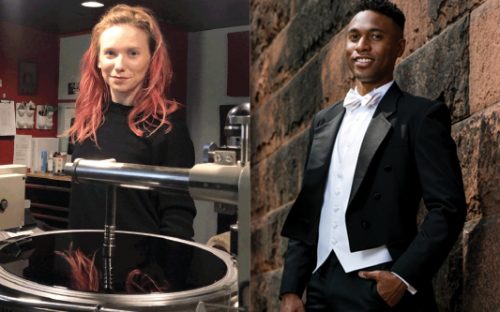 Two Setnor School of Music alumni were honored with Grammy Awards or nominations: mastering engineer Margaret Luthar '05 and baritone Malcolm J. Merriweather '07.
Margaret Luthar '05, who is the head mastering engineer at Welcome to 1979 in Nashville, received Grammy Awards for mastering Bobby Rush's "Rawer Than Raw," which won Best Traditional Blues Album, and for cutting the lacquer masters for Tiffany Haddish's "Black Mitzvah," which won Best Comedy Album.
Baritone Malcolm J. Merriweather '07 was nominated in the Best Choral Performance category for "Moravec: Sanctuary Road" with Kent Tritle, conductor (Joshua Blue, Raehann Bryce-Davis, Dashon Burton, Malcolm J. Merriweather and Laquita Mitchell; Oratorio Society of New York Orchestra; Oratorio Society of New York Chorus). Merriweather is music director of New York City's the Dessoff Choirs and associate professor and director of choral studies at Brooklyn College of the City University of New York.
The 63rd Grammy Awards were presented on March 14.