Faculty Focus spotlights the recent creative and scholarly achievements of VPA faculty.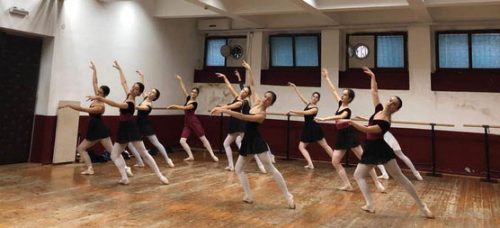 Danita Emma, instructor in the Department of Drama and a ballet master teacher, recently returned to Syracuse following a U.S. Fulbright Program residency. As a Fulbright Dance Specialist, Emma spent six weeks in Montenegro sharing her American pedagogical expertise of classical ballet and empowering young dancers to expand their artistic capacity. As a guest artist she taught daily technique classes at the Princeza Ksenija Ballet School and set new choreographies for the dancers. In addition, Emma connected with artists across many disciplines, including dance, music, and visual arts, as well as government and embassy officials.
Kelly Gallagher, assistant professor of film in the Department of Transmedia, had her short animated film "How to Bake an Apple Pie" screened at International Film Festival Rotterdam. In March she will run the Spring Break Makers & Creators Film Camp for girls, trans, and gender non-binary youth in Iowa City, Iowa.
Kendall Phillips, professor in the Department of Communication and Rhetorical Studies, was interviewed for the Morning Consult story "Biden Fans Love 'Fast & Furious'; Fans of Warren and Sanders Prefer 'Joker.'" He was interviewed about the Oscars for WAER's Pop Life podcast that is carried by several NPR stations.
Whitney Phillips, assistant professor in the Department of Communication and Rhetorical Studies, was quoted in The Washington Post story "The 24 most important viral reactions on the Internet in the past 20 years," the Wired story "Internet Deception Is Here to Stay—So What Do We Do Now?" and the Medium story "Gender Criticals Are Purposeless Fearmongers."
Sam Van Aken, associate professor of studio arts in the School of Art, had "Tree of 40 Fruit" included in the exhibition "Partnering with Nature" at the World Economic Forum's 50th Annual in Davos-Klosters, Switzerland. Drawing from the "Nature—Cooper Hewitt Design Triennial" exhibition originally organized by Cooper Hewitt and Cube design museum, this adaptation is a collaboration between the Smithsonian and the World Economic Forum. Van Aken also gave a talk as part of the exhibition.