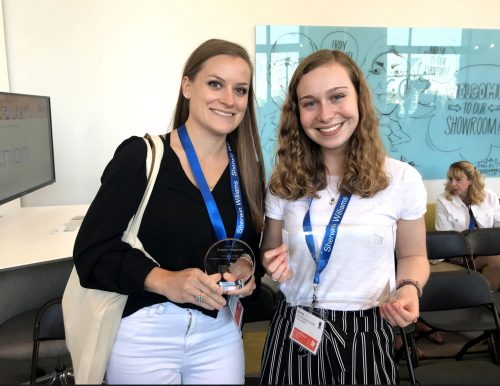 A student and alumna of the environmental and interior design (EDI) program in the College of Visual and Performing Arts' School of Design were honored recently by the New York Upstate/Canada East chapter of the American Society of Interior Designers (ASID) for their work. ASID advances the interior design profession and communicates the impact of design on the human experience.
Erin Toy '20 received first place in the 2019 student design competition's commercial category for her project "Innovative Office Design: A Collaborative Workspace." The space was designed for a global commercial real estate firm in Denver, Colorado, and draws inspiration from the city's environment and culture as well as features of the WELL Building Standard, which relate to health and well-being.
Susanne Gruening Angarano '08, principal and senior interior designer at Ashley McGraw Architects P.C. in Syracuse, was honored by ASID as one of its 2019 Ones to Watch Award winners in the Design Excellence category. The Ones to Watch program identifies and recognizes rising leaders in the interior design industry who demonstrate exceptional leadership potential and a willingness to push the boundaries of the profession.
Both Toy and Angarano credit Syracuse University and the EDI program with giving them the tools for success.
"The EDI program at Syracuse helped me discover exactly what I wanted to do in the interior design field and provided me with the skills and knowledge to feel ready to enter the real world," says Toy.  "I received a well-rounded education from technical skills to creative skills to soft skills. I'm thankful for the support of the EDI faculty throughout my college career and this project. My relationships with the professors will carry into my professional experience."
"I believe that my education at SU in the interior design program started me on the right path to leadership in the profession and towards a concentration in design excellence," says Angarano. "The program laid the foundation for my career, providing a wide breadth of experiences and exposure to a variety of design typologies and methodologies. It is a rigorous program and fostered a drive in me not only to create good design, but also for my work to have an impact."