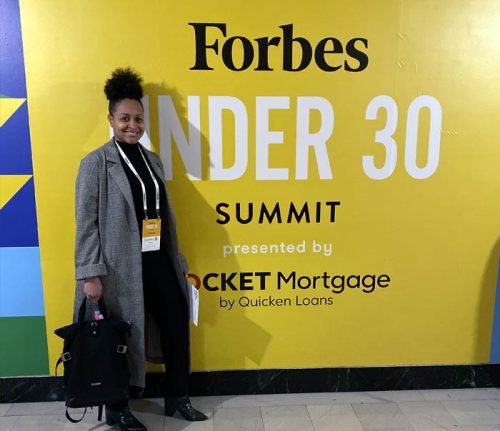 Courtney Jiggetts, a senior environmental and interior design major in the College of Visual and Performing Arts' School of Design, was named a 2019 Forbes Under 30 Scholar. The program awards 1,000 college and university students the opportunity to attend the Forbes Under 30 Summit, an immersive experience that brings together the best minds across industries, venture capitalism, public policy and other disciplines to learn, network, collaborate, recruit and exchange ideas.
This year's summit was held in Detroit in late October, and Jiggetts was able to attend and participate in a variety of events, including specific programming for the scholars.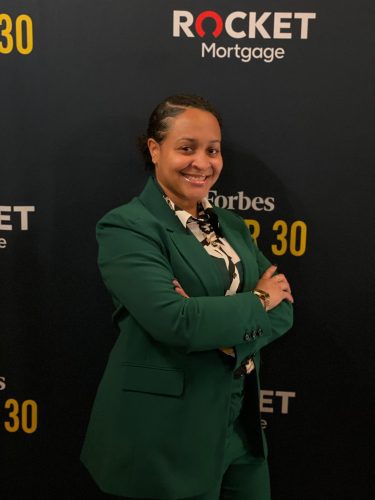 "There are no words to truly express the dynamic of the experience in its entirety," says Jiggetts. "I had the opportunity to engage with some of the world's greatest and most ingenious thinkers and game-changers from a variety of industries, from technology to social media. I participated in discourse, events and panels centered around extremely complex topics, all geared toward redefining the ways in which we not only think about our world, but the ways in which we engage with it."
The summit featured more than 200 speakers, including athletes Serena Williams, CEO of Serena Ventures, and Kevin Durant, co-founder and partner of Thirty Five Ventures; a start-up hub, where start-ups in a variety of sectors demonstrated their new ideas and inventions; and such panel discussions as "Venture Capital Secrets: What They Look For," "The Roadmap to Building a Sustainable Future" and "Building Companies Outside of Silicon Valley," all of which Jiggetts found memorable.
"The summit was an experience of everlasting impact, providing me with the opportunity to network with some of the industry's brightest," says Jiggetts. "I gained tools, tactics and resources that will last me a lifetime and am so fortunate to have been selected to attend the summit as a scholar. I am proud to have been able to represent Syracuse University."