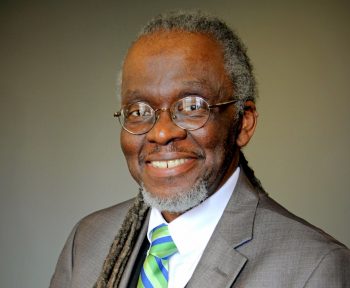 The College of Visual and Performing Arts' (VPA) Department of Drama has announced the establishment of a new scholarship fund in memory of a faculty member who dedicated himself to teaching excellence and developing successful theater artists and designers.
The Felix E. Cochren, Jr. Memorial Scholarship intends to promote a more diverse student body in the drama department by providing scholarship and financial assistance to current students who are underrepresented in the program. Cochren was a beloved associate professor of theater design and technology in the department from 2002 to 2019, when he passed away at age 68.
"Felix was an award-winning and ground-breaking designer, a distinguished member of the Department of Drama faculty for 17 years and a gracious colleague," says Ralph Zito, professor and chair of the department. "Most importantly, he was a dedicated and caring mentor, not only to his design students, but to students in all programs of study – particularly to students of color. I can think of no better way to honor his memory – especially at this moment in the life of our nation and our institution – than through the establishment and expansion of this fund."
The fund, which will begin awarding scholarships to students in Fall 2021, was established with a generous gift from the Gerald & Daphna Cramer Foundation Inc., facilitated by Lauren B. Cramer L'94, chair of the VPA Council and a member of the Syracuse University Board of Trustees. The gift is the latest in support of Forever Orange: The Campaign for Syracuse University's $1.5 billion goal.
Cramer learned that Ricky Pak, an assistant professor of acting, was working with a creative team of drama students and alumni on a new theatrical project in conjunction with Syracuse University's 150th anniversary that aimed to inspire 150 donors to give $150 to support underrepresented drama students. The piece, "Impact: Past, Present, Future," explores the University's history and examines its values as an institution with a specific focus on diversity and inclusion.
"Diversity and inclusion in the student population is a cornerstone value not only within the drama department but throughout the greater Syracuse University community as a whole," says Pak. "However, a unique challenge for drama is that if we do not have a diverse population of students, it directly impacts our day-to-day curriculum. We lose the ability to tell stories that are not traditionally told to the rest of the greater Syracuse community because we don't have the appropriate student population from which to cast. The University has a richly diverse history that traces all the way back to its founding—a history that our project seeks to highlight while also creating opportunities for underrepresented students to be able to tell those stories on our stages one day."
To encourage 150 donations to the Felix E. Cochren, Jr. Memorial Scholarship fund, the department will present "Impact: Past, Present, Future" as a series of four live staged readings directed by Pak on Jan. 25, Feb. 22, March 8 and March 22. The performances are free and open to the public. Registration is required. To register and make a donation to the fund, visit cc.syr.edu/150impact.
For more information or to make a gift to the fund, contact Mike Grannis, assistant director of development and alumni relations in VPA's Office of Advancement, at 315-708-2377 or .
About Forever Orange
Orange isn't just our color. It's our promise to leave the world better than we found it. Forever Orange: The Campaign for Syracuse University is poised to do just that. Fueled by 150 years of fearless firsts, together we can enhance academic excellence, transform the student experience and expand unique opportunities for learning and growth. Forever Orange endeavors to raise $1.5 billion in philanthropic support, inspire 125,000 individual donors to participate in the campaign, and actively engage one in five alumni in the life of the University. Now is the time to show the world what Orange can do. Visit syracuse.edu/foreverorange to learn more.