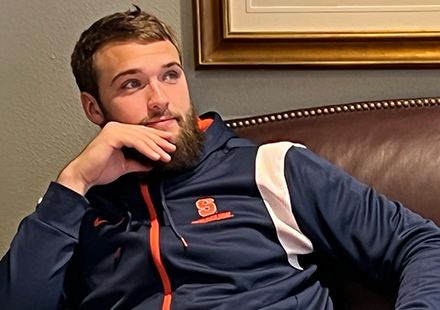 If you knew failure wasn't an option, what would you try? This is the question Garrett Shrader, a junior communication and rhetorical studies (CRS) major in the Department of Communication and Rhetorical Studies, considers as he sits on the small leather sofa in Sims Hall, sipping water from a recycled plastic gallon jug he carries with him.
He poses a question of his own: Is that a practical question?
"Failure is always an option," he says. "I've tried a bunch of stuff, and I've failed at a lot of stuff, but I'm persistent. If I want something I'm going to get it. It doesn't matter how long it takes." His response reflects who he is: determined, grounded, humble — attributes that serve him well as the starting quarterback of Syracuse University's football team.
Shrader's ability to persevere has been in play since starting his college career at Mississippi State. "I went there, my coach got fired, I got moved out of my position and I transferred to Syracuse," he says. "But now, we're finally starting to get things rolling. We've had the best season start in 30 years."
Navigating his academic path has also been a struggle. He started at the University's Martin J. Whitman School of Management but didn't feel like it was a fit. He explored a few different options before he found CRS.
"This is the most practical major there is," he says. "We've been looking at case studies of people who have prestigious degrees but lack critical thinking skills, can't communicate, work in teams or handle adversity. But every single day you're doing exactly these things in the classrooms at CRS. It has made me a better listener. I'm good with people, but it's made me so much better."
While being a student-athlete requires 80-100 work hours a week, Shrader has fewer distractions than most Gen Xers; he is not a fan of social media and only recently created an Instagram account. Rather than mindlessly scroll on his phone, he prefers things that keep him grounded.  He credits these practices with the reason why he feels content and sure of himself.
A few of his favorite activities include playing his guitar, hunting, fishing and flying. "Flying gives you the biggest adrenaline rush, being up in a plane, being in control," says Shrader, proud of the work he put in to get there. "I got my license in three months, which is unheard of for a private pilot, but that was all the time I had at that point."
Growing up in North Carolina, Southern ways of life greatly shaped Shrader's interests, beliefs and persona. His Christian faith guides his world beliefs and how he chooses to live. "I know what my purpose is, and I think that's the biggest thing anyone can do, especially at my age," he says.
As a college quarterback, he thinks people blow the importance of that role out of proportion. "I don't think it's necessarily the most special thing," he says, "especially in a sport where it takes everybody to get the job done. You put Tom Brady on a bad football team in his prime, he's not going to be a good quarterback. A lot of people don't understand that. But knowing that it takes everybody, and there are always people who help you along the way … that keeps me grounded."
Shrader says he never thought he would be living in the Northeast, where he speculates that 90 percent of his colleagues have different values and beliefs. "I've enjoyed it more than I thought would, " he says. "Part of that is my mindset. I believe in respecting everybody and understanding that you don't have to understand where they come from."
Having genuine conversations with friends with differing opinions has helped Shrader to develop and shape the way that he thinks religiously and politically.  "I'm very outspoken," he says. "If you ask me something, I'm going to give you my honest opinion. But then my friends ask me questions and then that's when I start to challenge my own ideas. Like 'oh, does that really make sense?'''
Reflecting on his time at CRS, Shrader is excited for what's to come. "CRS is a great department with great people and is incredible in terms of developing your communication skills and developing as a person," he says. "I'm ready for that next step, to go out in the world and start my career and do all the things I want to do."