Nyasha Makaza is a second-year communication and rhetorical studies (CRS) graduate student from Harare, Zimbabwe. Makaza serves as a teaching assistant for CRS 181: Concepts & Perspectives in Communication Studies, CRS 287: Foundations of Inquiry in Human Communication, and CRS 325: Presentational Speaking.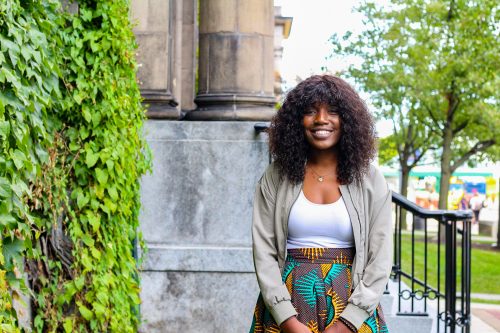 As a teaching assistant, Makaza enjoys being able to educate CRS undergraduates by not only honing their students' college experience but their personal experiences as well. They enjoy the mutual relationship of teaching as many of their students have taught them new things.
"CRS 181: Concepts & Perspectives in Communication Studies was an interesting class to TA for," Makaza says. "The recitation sections that I had were really interesting because my students and I were able to connect the course's topics to our own life. The relevance of the course and the topics that were covered definitely caused students to be more engaged with the material, so that made the discussions much more personal. I take a lot of interest in being able to educate others and having the opportunity to add value to people's lives. I also appreciate the value that my students give me whenever I interact with them and get to see how intelligent, funny, and clever they are with their assignments."
Makaza's knowledge of communication is not limited to communication and rhetorical studies; it also includes post-colonialism, Pan-Africanism, and Afrofuturism. During their time as an undergraduate student, Makaza published "Still Not Your Negro: Recovering James Baldwin's Challenges to Big Het Lies." In the publication, Makaza addressed the topics of white supremacy, the difference in portrayal of white people vs. Black people, and how past events have shaped the ways society treats the Black community. Their findings have allowed them to not only better themselves, but to also educate others and to advocate for equality.
"When I first started this program, I was initially interested in post-colonialism and how non-Western societies develop a sense of identity after they have been colonized," Makaza says. "However, during the course of my studies, I have decided to connect Pan-Africanism and Afrofuturism to the ideas of post-colonialism. For example, Black Panther is an Afrofuturist text that allows us to study how (Black) people live without dominant structures like white supremacy, racial class, and capitalism. Many of these issues unfortunately fall on those who are not white, and these people did not ask to be a part of these issues."
Makaza's passion for advocacy has also supplemented their role and experiences as a teaching assistant. Throughout their time as a teaching assistant, Makaza has witnessed #NotAgainSU and the impacts of remote learning. While these times were emotional for both Makaza and their students, Makaza has always made it a mission to always check in on their students to reassure them that everything will be okay.
"It broke my heart to see my students–especially my Black students–trying to balance being a student and fighting against an institution where racism is enacted," Makaza says. "I try my best to create a space for all of my students and graduate community, so that they know that someone is there listening to them. As far as Zoom, teaching over Zoom this past semester was extremely difficult because it is easy to hide on a screen. I always ask clarifying questions to make sure that everyone is okay and to create an environment for everyone."
As of right now, Makaza plans on taking a gap year to assimilate to the new life that they are experiencing. Makaza believes that CRS has prepared them for any field and has shifted their perception of life.
"So much has changed since I started this program," Makaza says. "This program has changed the way that I think about certain things and how I see certain things. CRS has inspired me to find the meaning in things, how we can use communication to analyze these meanings, and why these meanings are so essential to society. While I do anticipate taking a gap year, whatever I do after grad school, CRS will definitely be a part of it."
–This story was written by the CRS student news team. Contact them at .