Meg Bojarski is a second-year communication and rhetorical studies (CRS) graduate student who is from Lawrenceville, Georgia. As a graduate student, she serves as a graduate student liaison, representing the graduate student body at department meetings and providing input on how the CRS graduate program operates.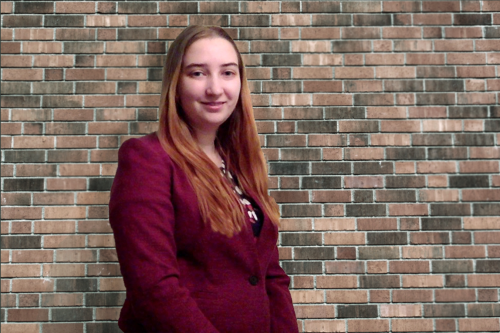 "I want to leave the [CRS] program better than I found it," says Bojarski. "The department has really made it a focus that my opinions matter. They are dedicated to making sure that what needs to happen for the grad students does happen."
In addition, Bojarski also serves as a teaching assistant for CRS 225: Public Advocacy and CRS 183: Concepts and Perspectives of Rhetorical Studies and has served as an instructor of record for CRS 625: Oral Communication Skills for Engineers, a graduate level course. She describes these roles to be "fulfilling" as she loves to see her students succeed and grow.
"When I taught CRS 625: Oral Communication Skills for Engineers, I liked seeing people grow in their confidence –which is such an interesting thing with public speaking because most people hate public speaking," she says. "I saw people–especially people where English is not their first language–get more comfortable with public speaking and being able to speak professionally."
Outside of her duties and studies, Bojarski also has an array of publications, one of them being "How the Spoon Theory relates to Mental Health and Social Interactions." In the article, she addresses the impacts of going through a spoon scarcity and how this scarcity can drastically hinder an individual's mental, physical, and social performance. Her findings have allowed her to not only better herself, but also have allowed her to help her fellow graduate students.
"As a perfectionist, and I know a lot of college students are perfectionists as well, this year has taught me that we do not need to make things perfect because stressing about making it perfect is wasting our energy," she says. "One strategy I have found helpful is breaking down my tasks into what needs to be done versus what would be nice to have done, and really focusing on what needs to be done."
Bojarski has expanded her knowledge of communication by researching the interactions that occur on digital platforms, the impacts of conspiracy theories, as well as the Antichrist. Her interests have allowed her to refine her thesis where she plans on analyzing the Antichrist and how using this term is politically relevant–specifically with Donald Trump.
"When I started out my thesis, I noticed that there was a recent rise in Antichrist TV shows," she says. "Between 2015 and 2019, there were at least five major TV shows that specifically focused on the Antichrist as a main character. Then, in June 2020, I started noticing a trend where people were calling Donald Trump the Antichrist. I want to really dig into what using that kind of language means."
After graduate school, Bojarski hopes to pursue a role in external communications with an engineering company. Her personal interest in STEM has motivated her to link the communication field with the engineering field.
"I am trying to bridge gaps between groups that are very self-isolated, and CRS has trained me on how to make those connections possible," she says. "Studying CRS is about understanding the choices that we make with communication and their impacts. This program has taught me that you don't necessarily know what communication is until you dig deeper."
–This story was written by the CRS student news team. Contact them at .