Get to know the graduate students in the CRS program at Syracuse University of the 2020-21 academic year!
Meagan Bojarski
Meg is a second-year masters student in CRS. Her research interests are popular culture, digital communications, and apocalyptic rhetoric. Meg's thesis explores how various Internet users remix prophecy, popular culture, and conspiracy language in discourse that associates Donald Trump with the Antichrist. Originally from Lawrenceville, GA, Meg received her bachelor's degree in History (concentration in Public History) from the University of Alabama in Huntsville, with minors in English and Ancient and Medieval Studies.
Conference Presentations
Bojarski, Meagan and John Saunders. "Nathan Bedford Forrest's Crisis of Identity: Controversy Over Conflicted Personas as Represented in a Memphis Statue." April 6, 2019. Southern States Communication Association Conference. Birmingham, Alabama.
Bojarski, Meagan. "Becoming a Queen: A Feminist Reading of Rumpelstiltskin." February 2, 2019. Mississippi Communication Association Conference. Jackson, Mississippi.
Bojarski, Meagan. "Dungeons and Distortions: Misconstructions of Druidism in Dungeons and Dragons." April 11, 2019. National Conference on Undergraduate Research. Kennesaw, Georgia.
---

Macklin Brigham
An Upstate New Yorker through and through, Macklin Brigham was born and raised in Central NY and attended St. Lawrence University in the North Country, where he received his Bachelor's degree in Performance and Communication Arts and minored in Film and Representation Studies. He currently lives in Syracuse and is a first-year in the CRS Master's program. His research interests include Queer Film and Film Theory, Psychoanalysis, and issues of face and authenticity.
---
Cara Hardman
Cara Hardman is a second-year graduate student and a teaching assistant. Originally from New Jersey, she attended Cumberland County College for the first two years of my undergrad, earning an Associate's Degree in Liberal Arts/Spanish before transferring to Rowan University. Cara graduated from Rowan University with a Bachelor's Degree in Communication Studies with a minor in Women's and Gender Studies. Outside of course work, She enjoys watching television and movies (primarily Disney and Harry Potter), coloring is one of my favorite ways to relax, and I enjoy spending time with my family, friends, and dog whenever possible.
My research interests are primarily centered around gender. More specifically, I like to analyze representations of masculinity and femininity throughout popular culture (especially in Disney films). In addition, I have recently become more interested in exploring the perception of the female body in public space(s).
Publications and Presentations
Hardman, Cara. "Part of His World: A Feminist Examination of Hierarchy and Masculinity in The Little Mermaid." April 11, 2019. James C. McCroskey and Virginia P. Richmond Undergraduate Scholars Conference. Providence, Rhode Island.
---

Seth Knievel
Seth Knievel joined CRS after securing his BA in English literature and communication studies at the University of North Texas. His research interests are the everyday life performance of gay men, specifically how queer communities have adapted to life during COVID-19. Seth's interest in the intersection of rhetoric, queer studies, and performance studies has also prompted a passion for praxis. For this reason, Seth will be writing and directing two performance studies shows that will go up in his second year. The first is a gay adaptation of Moby Dick, wherein he investigates the relationship between closure and recovery. The second is a narration of a family celebrating Passover during the HIV/AIDS crisis, which examines the relationship between sexuality and religion. In his free time, Seth enjoys LARPing, running, and restoring antique clocks and typewriters.
Published Reviews
Knievel, S. (2021). "Review of the book Plague Years: A Doctor's Journey Through the AIDS Crisis, by R. A. Slotten." QED, 8(1).
Knievel, S. (2021). "Review of the film Call Me by Your Name, by L. Guadagnino." QED, 7(3), 233-235.
Creative Research
Knievel, S., Writer, Director. "Momento Homo: An Exploration of Transgressive Homosexuals in the 1960s." March 2019, Denton, TX: University of North Texas, Communication Studies Black Box Theatre.
Allison, J. M., Jr., Howard, K. E., Johnson, S. A., Knievel, S., Marsden, A. C., Overton, K. I. Y., Vaughn, H. A., & Wilks, K. E., Writers, Adaptors, Directors, and Performers. October 2017. "What We Talk About When We Talk About Race." Denton, TX: Department of Communication Studies Black Box Theatre, University of North Texas. Peer-reviewed.
Conference Presentations
"Casting (at) Hoover: A Brechtian Staging of J. Edgar Hoover's Sexuality." Presenter. Southern States Communication Association. April 2021.
"What We Talk About When We Talk About Race." Panelist, Patti Pace Performance Festival. February 2021.
"Reduce, Refuse, Recycle: Evolution and Disruption Caused by Millennials in the Discipline." Session Chair. Group Performance with Natalie Garcia. Southern States Communication Association. Frisco, Texas. April 2020. [Cancelled due to COVID-19]
"What We Talk about When We Talk About Race." Panelist, Graduate Association of Students in Psychology Annual Diversity Symposium. University of North Texas, April 2019.
---
Maria Larcomb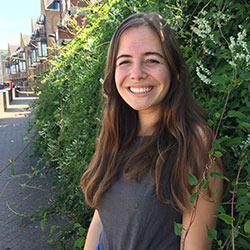 Maria Larcomb is a first-year graduate student and teaching assistant in the CRS department. She graduated from the Honors College at the University of South Florida with a bachelor's degree in Professional Writing, Rhetoric, and Technology. Maria enjoys creative writing, videography, travel, and design.
---
Harrison Lucas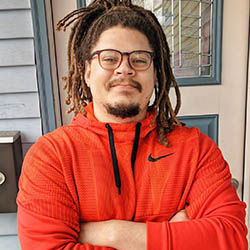 Harrison is a first-year student in the CRS program. He attended Marshall University in Huntington, West Virginia where he completed his bachelor's degree in Liberal Arts with concentrations in philosophy and religious studies. Having spent several years working in both the healthcare and public educational fields in under-served communities, his driving goal is to find ways to help those who have been systematically forgotten. His research interests include the rhetoric of Black liberation, racial construction, Marxism, consciousness, and humor.
---
Nyasha Makaza
"My research interests include Pan-Africanism, Postcolonialism, and Afrofurturism. More
specifically, I am interested in examining how Black subjects self-determine through art by (re)imagining Black subjectivities and Black futures  in ways that reject and devalue white and Eurocentric gazes."
---

Shewit Mikael
I was born and raised in Denver, Colorado. I received my BA in Communication Studies and Psychology from the University of Denver. That is where I realized my research interests which includes immigration, public policy, immigrant narratives of health and larger theories such as Critical Race theory. Being the child of immigrants it's important to me to dedicate my work to the stories I heard growing up-the narratives that shaped my community. That passion led me to Syracuse University where I am a first-year graduate student and teaching assistant.  In my free time I enjoy reading, watching film and TV, cooking, and baking.
---

Yiqing Ran
Yiqing is born and raised in the Southwest part of China and came to the US to get a Bachelor's degree at the University of Colorado Denver, majoring in Communication, and minoring in International Studies, and Women and Gender studies. As an international student, after observing a huge gap between media shaping and reality, she is very interested in how the media affects people's thinking and contributes to the stereotype and the logistic behind this framing. As a result, during her undergraduate degree, she has internship different positions in the journalism industry. She has worked as an information collector, reporter, news editor, video editor, etc. After joining SU's Communication and Rhetorical Studies program, Yiqing has been working happily as both a student and a Teaching Assistant ever since.
Her research interests are varied, including international studies, intercultural communication, women and gender studies, identity construction, and postcolonialism and decolonial studies. But what she is currently focusing on is to study the decolonization practice in China through rhetorical analysis during the COVID-19 period.
---

Jack G. Sather
A lifelong Hoosier, Jack G. Sather graduated from Ball State University with a degree in English with a concentration in Rhetoric & Composition in 2020. His interests within the field of Rhetoric lie primarily in politics, including but not limited to Anarchism and American Conservatism. His graduate thesis will examine William F. Buckley Jr.'s 1965 quasi-quixotic campaign for the New York City mayorship and its role in revitalizing the Conservative Movement's momentum after Senator Barry Goldwater's defeat in the Presidential election of 1964.
---

Natalie Weathers
"As a young woman born and raised in Chicago, college-educated in Iowa, and currently residing in Syracuse, I've developed a fascination for experiences and the influence they have on our identities. Thus, identity and liberation are integral to my professional and personal aspirations. I'm currently completing my second (and final!) year at SU while constructing the final chapters of my thesis. My research centers Afrofuturist and Black Utopian rhetoric via communicological methodology within the 21st century."
---

Lauren Wiener
A lifelong New York resident, Lauren is a first year CRS student hailing from the northern shores of Long Island. She completed her undergraduate dual majors in Sociology and English & Textual Studies here at Syracuse University, returning to campus for her graduate studies after falling in love with the opportunities that Syracuse University provides. During her undergraduate freshman year, she co-founded Syracuse University's distinguished Esports Club, and continues to work as President to develop the community and build the club into a wildly successful program that boasts a variety of competitive teams.
Using her interests in narrative influence, digital multimodality, and organizational development, she hopes to dictate future studies in studying the links between visual rhetoric and virtual reality. Some of her hobbies include 3d printing, model figurine painting, gardening, traveling, and of course video games.
---
Hanyuan Zhang
Hanyuan is a second-year Master's student in Communication and formulated Studies. He is from China and received his bachelor's degree in Public Administration at The State University of New Jersey in 2020. His research interests include gender studies and Chinese rhetoric studies.
In daily life, he enjoys movies, models, and traveling.
Research Interests
Chinese Rhetoric, Gender Rhetoric, Study of Chinese Gender Discourse