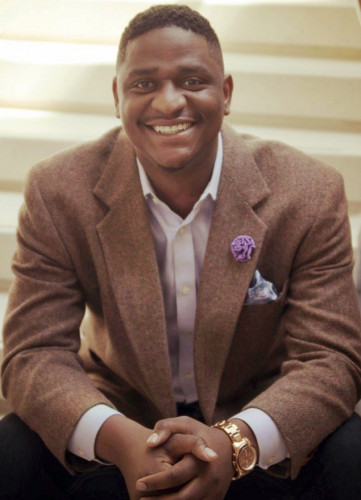 Keenan Hale is a 2015 communication and rhetorical studies (CRS) alumnus who had quite the Orange experience. A long time before coming to Syracuse University, Hale took a trip from Tennessee to Pennsylvania so he could watch Le'Sean McCoy and the University of Pittsburgh football team play against Syracuse. He never imagined that he would end up attending Syracuse University or playing for the University's football team.
Similar to many CRS students, Hale's intended destination wasn't the CRS program. He was originally enrolled in the chemistry program but decided to transfer to CRS after assisting one of his friends with their CRS project. Hale's friend was conducting an experimental project for a non-verbal communications class. The project sparked Hale's interest, and he made the switch to CRS, where he discovered his passion for communication and rhetorical studies and the skills it has to offer.
Hale learned various communication skills from professors like Amos Kiewe, Anne Demo, Bradford Vivian, and Diane Grimes. One of his favorite courses was the mindfulness communications course, which was taught by Professor Grimes at the time. Hale stated that these courses and experiences gave him the necessary skills to make a positive impact on his future job and colleagues.
After working hard on the field and in the classroom, Hale graduated from Syracuse University in 2015. He found his first job in Georgia serving as chief of staff to mayoral candidate Rochelle Robinson. As a lobbyist, Hale represented Nike, Capital One, and the Federal Reserve Bank of Atlanta. He recalled that one of his proudest achievements was managing a team of seven colleagues while lobbying for his clients and increasing year-on-year return. The success of his team and his excellent management skills opened the door for him to be promoted to vice president for Ian Reid LLC, a boutique bipartisan federal government and congressional affairs firm located in Washington, D.C.
Hale reflected upon his Orange experience and gave this memorable piece of advice: "Everyone that you hang with or are friends with are not going where you are going. Only you can walk in the shoes that are placed on your feet. Everything that you are experiencing right now is to prepare you to walk into other doors in the future. Your success timeline is different from everyone else; play at your own pace!"
–This article was written by the CRS student news team. Contact the team at .