Cheyenne Darcy Amaya, a 2018 graduate of the Department of Communication and Rhetorical Studies (CRS), currently works at NBC News as a news associate and production assistant.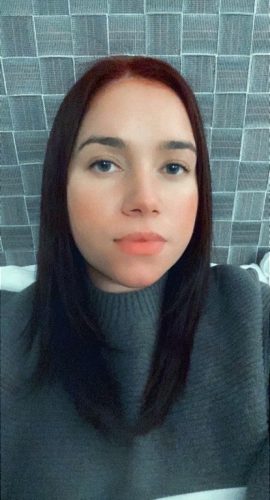 For Darcy Amaya, the transfer to Syracuse University from a Vermont college of roughly 500 students is a decision she will never regret. When talking to Darcy Amaya, the love and passion that she has for the CRS program is overwhelming. Although she was nervous when coming to such a large school, she says that "CRS felt like home because it is such a tight-knit community." The professors and courses provided her with self-confidence and a sense of security in her skills.
When asked to reflect on her past professors, Darcy Amaya sounded cheerful. She easily recalled several professors who had a great impact on her time at Syracuse: teaching assistant Kiah Bennett, Professor Kendall Phillips, Professor Amardo Rodriguez, and Professor Diane Grimes to list a few. Bennett was a valuable resource to Darcy Amaya, especially when it came to pursuing her master's degree. Darcy Amayasays "she was intimidating to me at first, but I eventually sat down to talk with her. I was able to get to know her and learn her schedule. She helped me strengthen my master's essays."
While at Syracuse, Darcy Amaya took a new class that was headed by the very wise and energetic Phillips. At the time the course focused on newly elected President Trump and pop culture. Darcy Amaya described the course as well run and a unique experience. She also remembers Rodriguez and Grimes to be highly knowledgeable and engaging teachers. The presence of professors like these made the CRS program welcoming and truly outstanding.
After hearing Darcy Amaya talk about these notable CRS faculty members, we decided to ask her what advice she would give to current CRS students. She says, "I would tell students to utilize your resources on campus." One of the resources she highlighted is office hours. "Office hours make you seen by your professors and make them aware of your goals." Office hours were an outlet for Darcy Amaya, who was an RA and had two jobs on campus. When the stress of academics and outside life became overwhelming, she could find relief in going to office hours and sharing her load with professors. Meeting with professors is beneficial in more ways than one. It allows students to clarify concepts and get extra help while building a mutual relationship that can last throughout college.
Even in her current professional life, Darcy Amaya is a believer in destressing and self-care. Whether it's going on a run or watching her favorite Netflix show, these actions are a physical and mental reset that enables her to be successful with her work.
While at Syracuse, Darcy Amaya saw herself becoming an on-air reporter. After master's school, her career plans found a new interest, and she currently works as a production assistant at NBC News. Darcy Amaya has an impressive list of past work experience including an internship at "The Rachel Maddow Show" and writing lower thirds for both CNN and ABC News. Some of her favorite work tasks were writing the lower thirds for news stories and finding guests for the hosts to interview.
When asked about her favorite aspects of work she responded, "My past team [at the news station] was the best group of people I have worked with, and I've had a job ever since I was 13 years old." Darcy Amaya also enjoys her job because it is similar to "passing a baton"–each member of the team has a different responsibility, and it's satisfying to see a story come together from start to finish.
Even now, her career goals are still in the air with Darcy Amaya telling us "I am driven to be a field producer so I can travel and create stories. I love chasing stories because there are so many to be told." Despite COVID causing uncertainty with her past jobs, she is proud of where she has ended up and what she does. Darcy Amaya is a successful young woman who continues to be a valuable member of the Syracuse CRS program.
–This story was written by the CRS student news team. Contact them at .