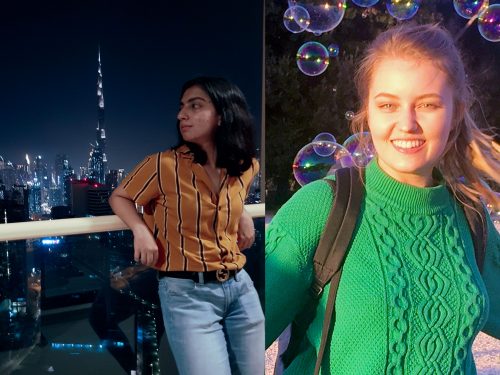 Fatima Al Khaldi and Sarah Noll, senior communications design majors in the College of Visual and Performing Arts' School of Design, were selected and featured as 2020 "Students to Watch" in Graphic Design USA (GDUSA) Magazine.
Each year, GDUSA selects a class of students nominated as "Students to Watch." The group is identified through the help of many of America's leading art and design schools.
Each class of approximately 75 students features the top 50 design education programs from across the country.
"We're thrilled to have two of our seniors named to the 2020 class of GDUSA 'Students to Watch,'" says Marc Stress, professor of practice in the communications design program. "Students selected have found personal and professional growth through their programs that they apply to their everyday design decisions and discussions. Being included serves to place these students into a larger universe of designers. Further, this nomination elevates each of the student designers associated with SU communications design past, present and future."
Founded in 1963, GDUSA is one of the oldest professional trades for the communications design industry.