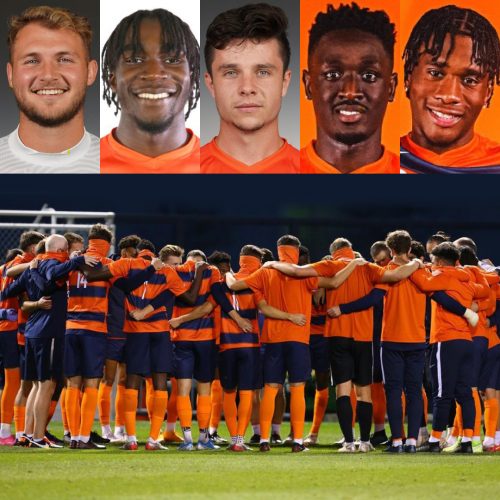 Capping a dream season, Syracuse University's men's soccer team won its first NCAA national championship in program history. A proud moment for the College of Visual and Performing Arts, five students from the Department of Communication and Rhetorical Studies (CRS) — Colin Biros, Levonte Johnson, Nathan Opoku, Olu Oyegunle and Russell Shealy — played a pivotal role in the Dec. 12 victory. 
The team bested eight-time national-title winner Indiana University. The competitive match, with 110 minutes of regulation play, ended in a 2-2 draw followed by penalty kicks.
"Our ability to score crucial goals late in the game earned us the 2022 championship," says Johnson, a senior forward who scored the 86th-minute goal in the semifinal that sealed the University's appearance in the final. "That and I think we had the best defensive team in the country."
Senior–year goalie Shealy was named 2022 NCAA Most Outstanding Defensive Player. His save during the eighth round of penalty kicks positioned his team for the winning goal, beating Indiana 7-6. Shealy is heading out West to start his professional career with LA Galaxy as a second-round pick in the Dec. 21 SuperDraft.
With two goals and two assists, sophomore forward Opoku earned the tournament's Most Outstanding Offensive Player and the 2022 United Soccer Coaches (USC)' Third-Team All-America selection.
Johnson earned high honors as USC First-Team All-American and is a finalist for the Missouri Athletic Club Hermann Trophy, college soccer's top prize. He was drafted as a first-round pick to play for the Vancouver Whitecaps.
"This is amazing," says Johnson. "I started my college soccer career at the bottom playing for a junior college team in Florida. We made it all the way to nationals only to lose. I promised myself I would never forget how that loss and disappointment felt. To rise to Division I and win the national title is the highest collegiate achievement."
Biros, a senior-year midfielder, converted one of the penalty kicks for the Orange. Sophomore defender Oyegunle took down an Indiana forward in the closing seconds of the first overtime period. No foul was called, and the score remained even.
"This was well-deserved," said Head Coach Ian McIntyre moments after clinching the national title. "We belong here."