Congratulations on your admission to Syracuse University and the College of Visual and Performing Arts! The COVID-19 pandemic prevents us from meeting with you on campus this spring, but we're eager to connect with you online to share all that VPA has to offer.

Below you will find many virtual events that give you opportunities to connect with VPA students, faculty, and staff. We hope you will join us for multiple sessions to learn more about the VPA student experience, ask questions, and get excited for the fall semester!

For University-wide programming for admitted students, please visit the University Admissions visit pages.
Custom Backgrounds for Admitted Students!
Show that you're proud to be #SyracuseBound!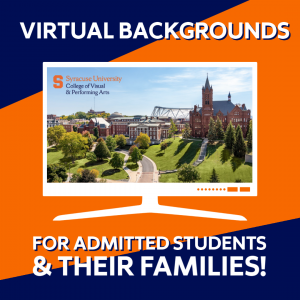 Join Us for These Virtual Events
Our list of virtual events for admitted students is updated regularly and all times are listed in Eastern Time. Once you have registered for a virtual session or special event, you will receive a link via email. Note: once you submit the registration form, a confirmation email will be sent to the student's email address. In many cases, log in instructions will be sent via email the day of the event.
All event times are in Eastern Time. Click on date links to register for a session.
All-VPA Sessions and Special Events
Vibe with VPA

Join the VPA recruitment specialists on a Zoom call to ask any questions you may have about the College of Visual and Performing Arts and Syracuse University, your major, resources and opportunities on campus, and more. Stay for a short time, or stay for the full hour — we're just excited to see you! 
This is an interactive session tailored to you and your questions, so come prepared to chat!
Search for a session by date and register
Exploring Creative Careers
Join VPA's assistant director of career services Patti Bevans for a discussion about how VPA supports and prepares students for successful careers in creative fields. The session will include a brief overview of the college's career services and share information about career exploration, internship opportunities and examples, alumni engagement, and more! A question-and-answer session will follow. 
Admitted students and parents are welcome and encouraged to join together.
Meet Your Future: Conversations with VPA Alumni
We invite you and your family to join Michael S. Tick, dean of the college, and Associate Dean Elisa Dekaney for a panel discussion with VPA alumni. Learn how a VPA education launched their careers and how VPA will prepare you for success too!
Registration for these events is required. We welcome you to attend one or both events. Please use the links below to sign up. We encourage families to join in together on one device!  
Parent and Guardian Receptions

Join Michael Tick, dean of the College of Visual and Performing Arts, for a casual, parents-and guardians-only program to learn what it means for you and your student to be a part of the VPA and Syracuse University family.
Dean Tick will be joined by VPA staff members Carol Ruffin, director of the Office of Academic and Career Advising; Patti Bevans, assistant director of career services; and Jenny Saluti, director of recruitment and admissions. There will be plenty of time for questions and answers!
Meet with Our VPA Ambassadors
As an elite group of student volunteers in the Office of Recruitment and Admissions, the VPA Ambassadors help prospective students and their families gain valuable insight into life at Syracuse University and the College of Visual and Performing Arts.
The Inside Scoop: Cocoa and Connect with VPA Ambassadors
This session is led by VPA Ambassadors who will speak about their experiences as current VPA students. This is your chance to learn about what it's like to live and study at Syracuse University and in VPA. Be sure to bring your questions and be ready to chat.

Trivia Night
Hang out with the VPA Ambassadors and test your knowledge of Syracuse University and the College of Visual and Performing Arts! Meet other admitted students, get in the Syracuse spirit, and ask any remaining questions you have about the student experience. There will be prizes and lots of fun!
Individual Appointments
You may also schedule an individual virtual appointment with a representative from the VPA Office of Recruitment and Admissions, a faculty member, or a current student.
Request an individual appointment
School/Department-Specific Events
Communication and Rhetorical Studies (CRS)
Follow Us on Instagram
Join us on Instagram for an inside look at VPA and life at Syracuse University.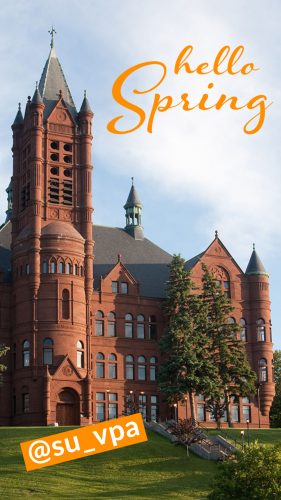 Experience the VPA Community
At Syracuse, being Orange is a way of life. But what does it mean to be Orange in VPA? Check out these videos from our schools and departments to find out!
For School of Art Students
Tour the School of Art facilities
For Communication and Rhetorical Studies (CRS) Students
Faculty and students explain the benefits of a degree in CRS
Tour Sims Hall, home of the CRS department
For School of Design Students
Inside the School of Design
Consider joining the Design Learning Community
For Department of Drama Students
For Setnor School of Music Students
A sneak peek into the Setnor School of Music
Student profile: Kyle Beirne '21, sound recording technology major
For Department of Transmedia Students
Student profile: Film major Danial Khan '21 
Playlist of computer art and animation students' short films
Art photo alumni share how their education prepared them for their current success