Product Name: Youv (you-v) – Broad Spectrum Sunscreens
Topic/problem description: 
Sunscreen is one of our primary defense mechanisms against UV skin damage (Hughes, 2013), however research has shown that active ingredients in sunscreen products may be harmful to our environment and human health (Giokas, 2007). Currently, there are six destinations across the globe that have begun to eradicate the use of traditional sunscreens that contain specific UV blocking ingredients (NYT, 2019). Most medical professionals believe that not wearing sunscreen is far more risky than the side effects it may bring (Ramos-e-Silva, 2013). Thus, most of my secondary research led me to believe that the main problem with sunscreens are not its ingredients, but more so how people were using the products.
Most dermatologists recommend that everyone should wear sunscreen daily (Ramos-e-Silva, 2013), however primary research revealed that only 25% of people actually abided by that recommendation. People have existed on Earth far before the introduction of topical UV blocking products, yet human exploration and travel is far more accessible than ever before. Known alternatives to sunscreen include hats, sunglasses, high-coverage clothing, and even staying inside (EWG, 2019). Although, these alternatives are not always realistic for the modern human lifestyle.
Our only natural defense against UV rays lie underneath the surface of our skin commonly referred to as melanin cells (O'Neil, 2013). Typically, people who have deeper skin tones can safely sustain in warmer climates far longer than people with fairer skin tones (O'Neil, 2013). In addition to skin tone, regionality and previous exposure may also play a role in our experience under the sun. With this in mind, I wondered why most sunscreens were marketed to be effective on everybody. If we're all not having a universal experience under the sun, does it make sense for suncare to be universal?
With these factors in mind, How might we use UV protecting products in a more conscious and sustainable way?
Solution:
The proposed design solution combines multi-functional packaging with demographic specific branding to create a suite of sunscreens that should appeal to most. The adjustable cap allows the user to pump or pour out the sunscreen formula depending on the use case. The duality behind this function encourages the user to use the product for everyday or recreational use. The heavy-plastic dial around the base of the cap is labeled with three settings; squeeze, press, and close to facilitate the preferred method of dispersion. Pressing the top lever 1-2 times extracts enough product to cover the entire face and neck. The Squeeze function allows the user to squeeze the desired amount into their palm, and the close function is included to seal the bottle after use.
The graphic labels surrounding the bottles are inspired by the experiences of various sunscreens users. I created three versions that fit the need of dependent, voluntary, and resistant sunscreen users by delegating particular SPF values in respect to their experience under the sun. Primary research suggested that folks who were likely to burn associated warm tones with a sunburn, whereas folks who did not burn associated those same tones with warm weather. However, most people associated sunscreen with a fun experience and so I set out to create a label that was both colorful and fun.
Together, the physical and graphic components of this design work to facilitate a more personal and customized experience when selecting a sunscreen. The ultimate goal of this design is to hopefully pair people with an appropriate SPF value, all in efforts of reducing the adverse effects of UV blocking ingredients.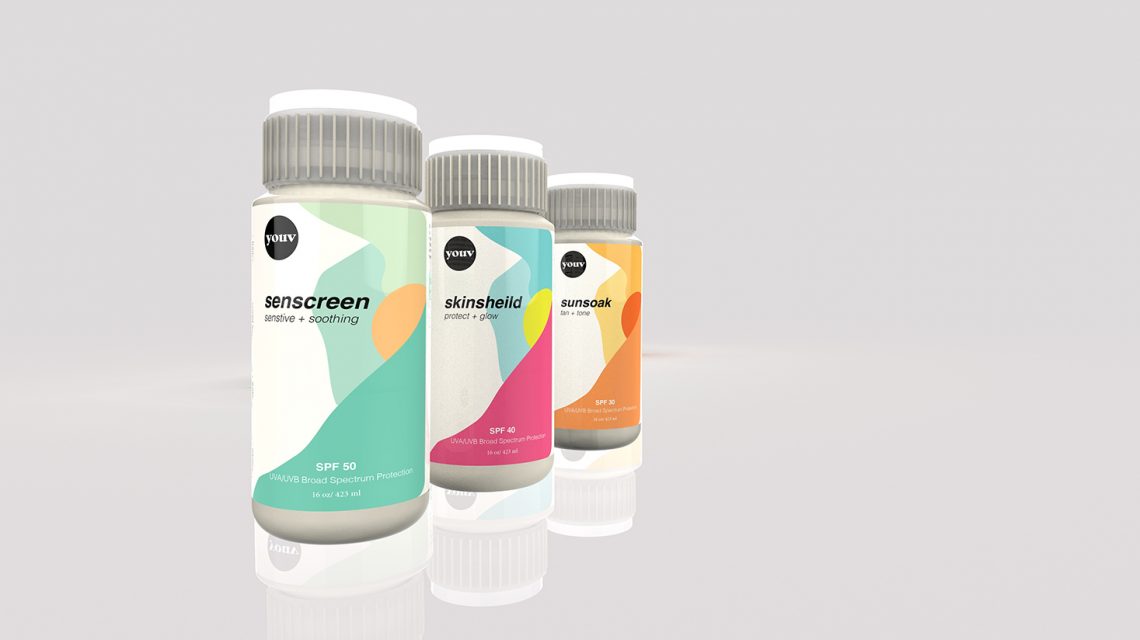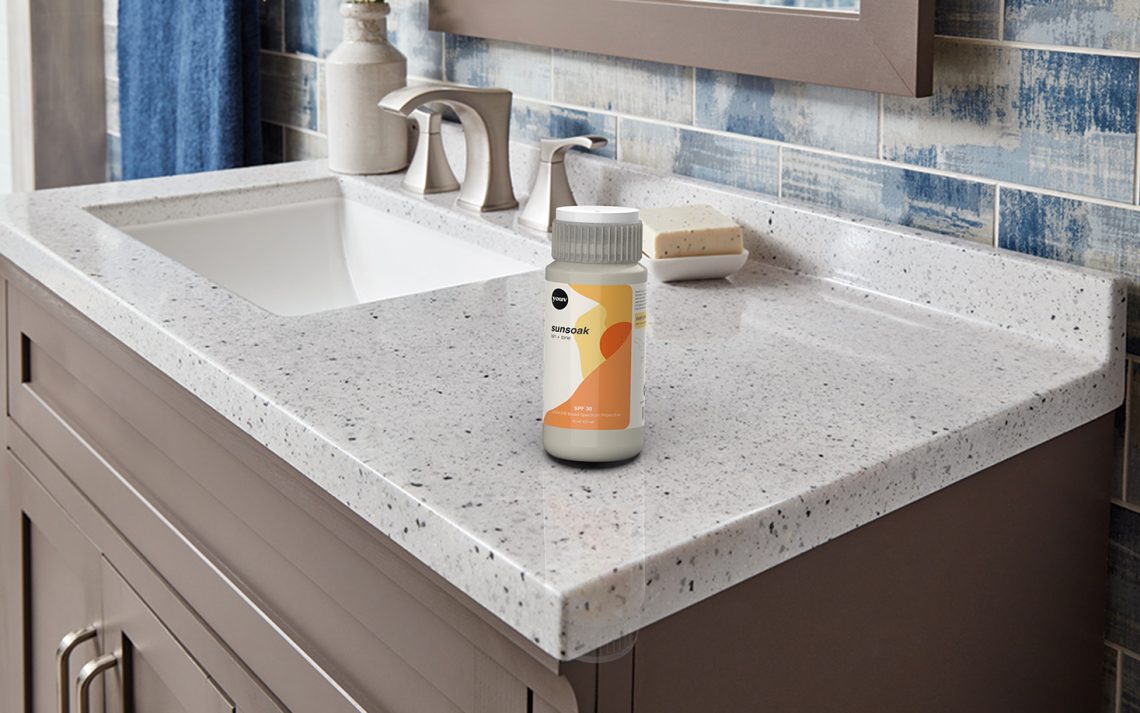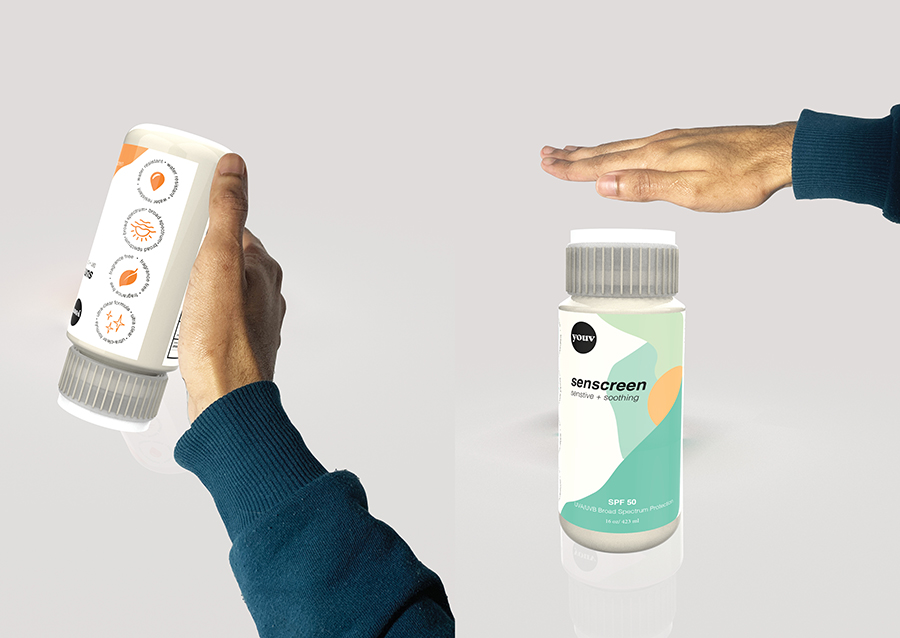 References:
Ewg. (2019). EWG's 2019 Guide to Safer Sunscreens. Retrieved from https://www.ewg.org/sunscreen/report/8-little-known-facts-about-sunscreens/
Giokas, D. L., Salvador, A., & Chisvert, A. (2007). UV filters: From sunscreens to human body and the environment. TrAC Trends in Analytical Chemistry, 26(5), 360–374. doi: 10.1016/j.trac.2007.02.012
Hughes. (2013). Sunscreen and Prevention of Skin Aging. Annals of Internal Medicine, 158(11). doi: 10.7326/0003-4819-158-11-201306040-00001
O'Neil, D. (2013). Skin Color Adaptation. Retrieved from https://www2.palomar.edu/anthro/adapt/adapt_4.htm
Ramos-E-Silva, M., Celem, L. R., Ramos-E-Silva, S., & Fucci-Da-Costa, A. P. (2013). Anti-aging cosmetics: Facts and controversies. Clinics in Dermatology, 31(6), 750–758. doi: 10.1016/j.clindermatol.2013.05.013
Zraick, K. (2019, February 7). Key West Bans Sunscreen Containing Chemicals Believed to Harm Coral Reefs. Retrieved from https://www.nytimes.com/2019/02/07/us/sunscreen-coral-reef-key-west.html