Product Name: Trail hero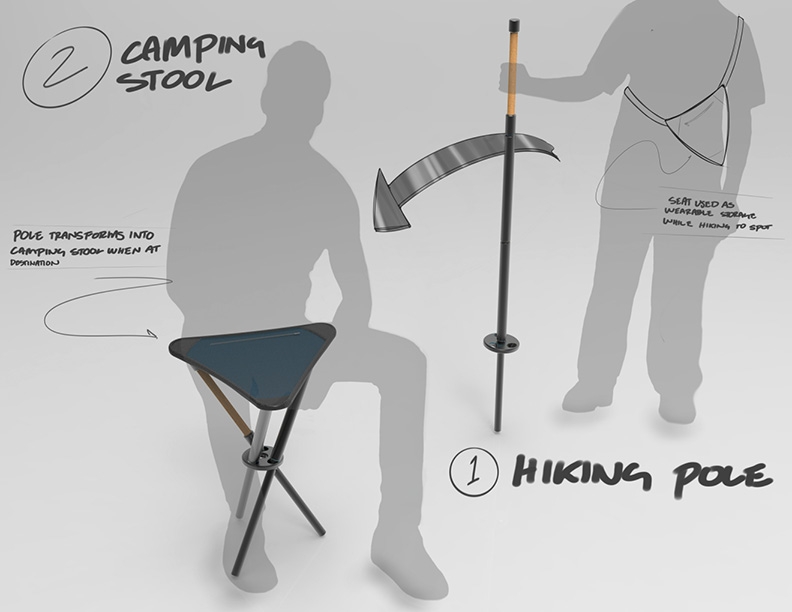 Topic/problem description:
Every year approximately 145 million people just in the United States stay active in the outdoors through a wide range of activities like hiking, biking, kayaking, and other actions that involve outdoor Environments (Outdoor Report, 2018) . Outdoor activity has been proven to be beneficial towards one's physical and mental health in a wide variety of ways (Outdoor Recreation,health, and wellness, 2009). Natural environments have proven to reduce overall anxiety and stress within human beings due to anthropological understandings.Through a variety of primary and secondary research methods I was able to identify a set of overall concerns humans have about the outdoors. The most popular included  weather conditions, self injury, and predators. 
Outdoor participants often bring outdoor gear to serve certain functions like providing safety, navigation, shelter, and other essential products to solve problems while active in the outdoor setting (survey, 2019). Often due to weight and limited amount of carrying capacity, enthusiasts are looking for products that are conscious and provide innovation in these two major areas (product retail market, 2019). Participants are often worried about safety issues like twisting an ankle, falling down, and physical demand while active in the outdoors (survey, 2019).. Self-injury was the most popular safety issue concern among participants. While going on a destination hike or short term camping trip, users often bring basic items for obstacles they might encounter. Whether its a lighter, pocket knife, or other basic essentials (U.S. Forest Service, 2020). Users typically bring a storage solution like a backpack to carry these items in.  While hiking, it is important to take rest breaks along the hike or at their intended destination (U.S. Forest Service, 2020). Humans often reflect and connect with their natural surroundings while in nature, this behavior is directly related to our biophilic connection with nature. (Outdoor recreation, health, and wellness understanding, 2009). With such great benefits from outdoor participation, how might we provide a design solution to encourage engagement in the outdoors. 
Solution:
The Trail Hero's product aim is to provide groups like destination hikers, campers,
and other enthusiasts the possibility to improve their outdoor experience. The product provides the user the ability to utilize a set of product functions like a hiking pole that betters their stabilization and safety while hiking. Additionally, while camping or hiking to their destination they are able to quickly assemble the camping stool to rest and better enjoy their time outdoors as well as a simple and effective storage solution for their additional items.
By providing a hiking pole function, it increases stability and environmental awareness for the user reducing the possibility of injury. As well as physical strain on the body especially for users who have prior health conditions increasing total confidence for the user. Outdoor participants often carry additional gear like backpacks and other survival gear. This extra weight contributes to strain on the user's ankles, knees, and back while hiking. The hiking pole reduces the total weight load on these areas thus lessing bodily injury. This storage system solution allows users to store basic items needed for camping without additional storage products. This keeps items easily accessible, lessens the load, and keeps the user better organized while on their destination hike. This design provides the ability to rest and reflect at any point or at a desired location. The function is given with the products ability to be quickly assembled into a camping stool when needed. There are limited sitting options in nature that are safe from environmental conditions. Parasites like ticks and other harmful insects and plants can be avoided with this seating ability. Additionally, environmental conditions like dirt and other wet conditions are undesirable to sit on for outdoor enthusiasts. This seating function provides a better alternative to what can be found in nature alone.
Sources
"2018 Outdoor Participation Report." Outdoor Industry Association. 
https://outdoorindustry.org/resource/2018-outdoor-participation-report/ (December 4, 2019).
Godbey, Geoffrey. 2009. "Outdoor Recreation, Health, and Wellness: Understanding and Enhancing the Relationship." SSRN Electronic Journal. http://www.ssrn.com/abstract=1408694 (November 7, 2019).
"If You Get Lost | US Forest Service." 
https://www.fs.fed.us/visit/know-before-you-go/if-you-get-lost (November 21,2019).
"Outdoor Survey." (2019).