Clear and Modular Kitchen Organizing System
Description: 
Through the past half-year of researching energy consumption in an urban setting, I narrowed the problem down to each individual rather than a larger industrial scale while those existing systems are hard to change considering our current economic status. Furthermore, co-living is becoming more and more popular among people who age from 20s to early 30s. As a relevantly larger group of the population, some structures and designs could be changed to improve the shared living experience which would save more energy and money with less waste. In many recourses I found, rather than the living room, the kitchen is more of the heart of living space while people can finish most of their work in their room, it is inevitable for them to use and meet each other in the kitchen area. However, the modern kitchen has existed since WWII. There was not too much change made since then, especially in an urban area. As the research went more into observation and interview, most users stated that the current storage structure is not helping them find things they need quickly and cause trouble for food storage. In the short term, these issues do not matter as much. However, in the long term, these wastes add up to their bill and become a considerable cost. The older style of wood-built cabinets exists in almost every kitchen I went to observe, even most of the new apartments still use the same structure. These lead to my solution for a thesis on how to make a kitchen storage system more efficient and help users have an easier time on sorting and identifying their items when needed.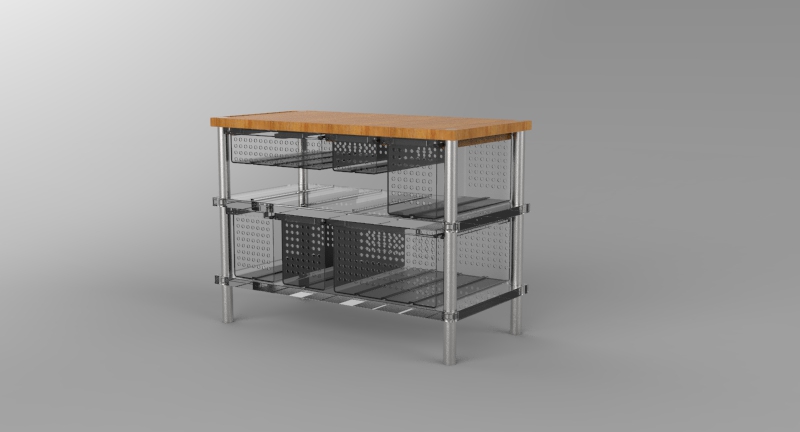 Solution:
I took the idea of a drawer-style storing system. The reason for these drawers to have holes in it is because some food and kitchenware would stay good for a longer period while the air can flow through. Second, I made these drawers with a handle so the user can pull the whole thing out and use it as an individual box when they put specific categories into one space. This would benefit people who like to bake regularly. Surprisingly, I found a good amount of people how to enjoy baking on a regular base when I was researching. Also, the material of these units is all clear plastic. This would help users to see through. Late but not least, renovate the whole kitchen cost a lot of money and time, which is one of the biggest reasons why most landlord does not want to do too much change on existing space. They also have to take risk of losing their renters. This design is more of an IKEA style furniture, which would take less time to assemble and cost less. It is made with steel pillars, wooden surfaces, and detachable drawers. There would be more modular drawers while I tightened everything up in the next two weeks such as built-in cooler drawers and upper cabinet drawers.