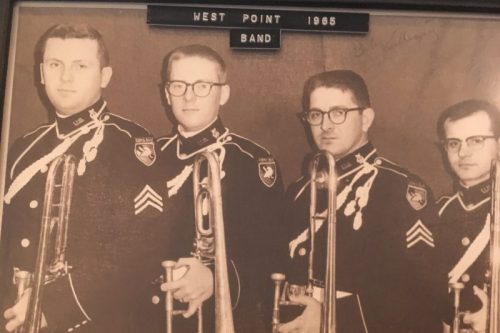 Beloved music instructor, trombonist and volunteer firefighter William "Bill" Harris reflects on decades of commitment to his alma mater and the Syracuse community.
It was supposed to have been a program for the ages—back-to-back concerts of German and Russian Romanticism, served up by the then-fledgling Syracuse Symphony Orchestra (SSO). On the podium was none other than the great Leopold Stokowski, making his SSO debut.
But the tall, imperious maestro who had shot to fame in Disney's Fantasia decades earlier, seemed preoccupied, according to principal trombonist William "Bill" Harris '65, G'79.
"Stowkie was pretty old and cranky," says Harris, recalling the ailing conductor's visit in March 1971. "At one rehearsal, he got so mad at us that he stormed offstage, demanding someone call him a cab. Out of nowhere, Calvin Custer '65, who played French horn, barked, 'Okay, you're a cab.'"
The orchestra was in hysterics. "I never laughed so hard in my life," continues Harris, speaking by phone from his 19th-century home in the Village of Fayetteville. "I don't remember much about the concerts, but that rehearsal was pretty good."